The Pragmatic Bookshelf
By programmers for programmers
Sort by: Title | Release Date
Mazes for Programmers
A book on mazes? Seriously?
Yes!
Not because you spend your day creating mazes, or because you particularly like solving mazes.
But because it's fun. Remember when programming used to be fun? This book takes you back to those days when you were starting to program, and you wanted to make your code do things, draw things, and solve puzzles. It's fun because it lets you explore and grow your code, and reminds you how it feels to just think.
Sometimes it feels like you live your life in a maze of twisty little passages, all alike. Now you can code your way out.
2015-09-10
Hello, Android (4th edition)
Google Android dominates the mobile market, and by targeting Android, your apps can run on most of the phones and tablets in the world. This new fourth edition of the #1 book for learning Android covers all modern Android versions from Android 4.1 through Android 5.0. Freshly added material covers new Android features such as Fragments and Google Play Services. Android is a platform you can't afford not to learn, and this book gets you started.
2015-05-01
Pragmatic Unit Testing in Java 8 with JUnit
The Pragmatic Programmers classic is back! Freshly updated for modern software development, Pragmatic Unit Testing in Java 8 With JUnit teaches you how to write and run easily maintained unit tests in JUnit with confidence. You'll learn mnemonics to help you know what tests to write, how to remember all the boundary conditions, and what the qualities of a good test are. You'll see how unit tests can pay off by allowing you to keep your system code clean, and you'll learn how to handle the stuff that seems too tough to test.
2015-03-16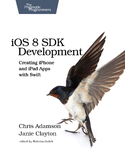 iOS 8 SDK Development
The iOS 8 SDK changes everything. New programming language, new ways to work with other apps, new tools to do cool stuff. In a world of iPhones and iPads, it's a great time to make a fresh start developing apps for the platform. This book guides you through the state of the art of iOS development, including the radically overhauled Xcode 6 toolchain, the iOS 8 SDK, and the new iPhone 6 and iPhone 6 Plus. Entirely rewritten to use Apple's new Swift programming language, this book will take you through the fundamentals of writing apps that are responsive, adaptive, practical, and exciting.
2015-03-10
Your Code As a Crime Scene
Jack the Ripper and legacy codebases have more in common than you'd think. Inspired by forensic psychology methods, this book teaches you strategies to predict the future of your codebase, assess refactoring direction, and understand how your team influences the design. With its unique blend of forensic psychology and code analysis, this book arms you with the strategies you need, no matter what programming language you use.
2015-03-01