40% off, Command-Line Special!
October 17, 2012
Guglielmo Marconi began the first commercial transatlantic wireless service between Canada and Ireland on this day in 1907. So to celebrate the joys of powerful, unadorned technology, we've got three titles on sale with the same streamlined, no-nonsense philosophy. Use coupon code CommandLineFTW and save 40%.
The fine print:
valid until next Wednesday, October 24, 2012.
cannot be applied to existing orders
cannot be combined with any other coupon
you have to enter the coupon code CommandLineFTW when checking out. After you've entered all your information, in the Order Summary, click on Apply Coupon to enter the coupon code.
tmux
Your mouse is slowing you down. The time you spend context switching between your editor and your consoles eats away at your productivity. Take control of your environment with tmux, a terminal multiplexer that you can tailor to your workflow. Learn how to customize, script, and leverage tmux's unique abilities and keep your fingers on your keyboard's home row.
Now available from pragprog.com/book/bhtmux.
Practical Vim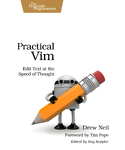 Vim is a fast and efficient text editor that will make you a faster and more efficient developer. It's available on almost every OS—if you master the techniques in this book, you'll never need another text editor. In more than 100 Vim tips, you'll quickly learn the editor's core functionality and tackle your trickiest editing and writing tasks.
Now available from pragprog.com/book/dnvim.
Build Awesome Command-Line Applications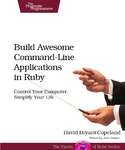 Speak directly to your system. With its simple commands, flags, and parameters, a well-formed command-line application is the quickest way to automate a backup, a build, or a deployment and simplify your life.
Now available from pragprog.com/book/dccar.
About Pragmatic Bookshelf
Please note our ebooks do not contain any Digital Restrictions Management, and have always been DRM-free; we pioneered the beta book concept; we'll email your ebook to your Kindle and synch your ebooks amongst your devices via Dropbox, including updates! (see our FAQ); read via Readmill, for social highlighting and sharing; and you can always come back and re-download your books when needed. We're here to make your life easier.
Don't Get Left Out
Are your friends jealous that you get these spiffy email newsletters and they don't? Clue them in that all they need to do is create an account on pragprog.com (email address and password is all it takes) and select the checkbox to receive newsletters.
Are you following us on Twitter and/or Facebook? Here's where you can find us and keep up with the latest news and commentary, and occasional discounts.
Coming Soon:
iOS

SDK

Development in print
Outsource It! in print
Mac Kung Fu, 2nd Ed. in print
And some betas, and other fun stuff
Recently Released:
Thanks for your continued support,
Andy & Dave

Books • eBooks • Screencasts • PragPub Magazine
PragProg.com