50% off 'Learn to Program with Minecraft' paperback, today only
December 12, 2014
Day four of our special Ten Days of Gerbils!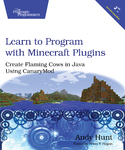 Save 50% on the featured paperback holiday gift book of the day. Today's selection is:
Coming up next on sale: Elixir, Clojure, Ruby, iOS, and more!!
We'll be back on Monday with Day Five of the Ten Days of Gerbils. Have a great weekend.
Don't Get Left Out
Are your friends jealous that you get these spiffy email newsletters and they don't? Clue them in that all they need to do is create an account on pragprog.com (email address and password is all it takes) and select the checkbox to receive newsletters.
Are you following us on Twitter and/or Facebook? Here's where you can find us and keep up with the latest news and commentary, and occasional discounts:
Tell your friends! Tweet this
Follow us on Twitter: @pragprog, @pragpub, Andy @PragmaticAndy and Dave @pragdave.
Coming Soon:
The VimL Primer
Arduino: A Quick Start Guide, Second Edition
Hello, Android, Fourth Edition
Metaprogramming Elixir
Recently Released:
Thanks for your continued support,
Andy & Dave The Pragmatic Programmers

Books • eBooks • PragPub Magazine • Audiobooks and Screencasts
PragProg.com