Core Data, 2nd Ed and October Magazine!
October 03, 2012
Core Data is Apple's recommended way to persist data: it's easy to use, built-in, and integrated with iCloud. Core Data is intricate, powerful, and necessary: Marcus Zarra's Core Data, 2nd Ed. is your guide to harnessing its power. And don't forget out latest iOS 6 specific guide, iOS SDK Development.
Also, This month's PragPub magazine is now available, free to read and share from pragprog.com/magazines.
We got a few interesting comments about our outsourcing book last week; if this subject troubles you, please have look at the blog post up at andy.pragprog.com.
Core Data 2nd Ed.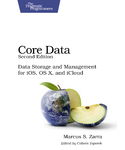 Cocoa expert Marcus Zarra walks you through developing a full-featured application based around the Core Data APIs. You'll build up a single application throughout the book, learning key Core Data principles such as NSPredicate, thread management, and memory management.
You'll start with the basics of Core Data and learn how to use it to develop your application. Then you'll delve deep into the details of the API. You'll explore not only how to get Core Data integrated into your application properly, but even better, how to work with the API's flexibility to create convenience methods to improve your application's maintainability.
You'll learn how to reduce your number of mapping models, integrate your Core Data app with Spotlight and Quick Look, connect your application with sync services, and find out how to use Core Data in a multithreaded environment. By the end of the book, you'll have built a full-featured application, gained a complete understanding of Core Data, and learned how to integrate your application into the iPhone/iPad platform.
This second edition updates all examples for OS X Mountain Lion and iOS 6, gets you up to speed on changes in multithreading, and provides new chapters covering iCloud and NSFetchedResultsController.
Now available in beta from pragprog.com/book/mzcd2.
October PragPub Magazine
Over the past few issues, Paul Callaghan has been favoring us with a series on Haskell, a purely functional programming language. At the Functional Programming Languages and Computer Architecture '87 conference, Haskell was chosen as an open standard for functional languages, and it now serves as a basis for research in functional-language design. But over the years Haskell has become a practical language for development. In this issue, Paul puts the key concepts developed in earlier columns to work in an interesting exercise to demonstrate its virtues.
Michael Nygard is back this month, too, wrapping up a series of horror stories from his days as a troubleshooter "for a company that offered 24×7 operations for websites that we didn't create." In this installment, he reveals how he solved the problem of the system that was waiting for Godot.
Also: Jonathan Rasmusson shares some insights gained while working in iOS development. Your editor takes you back in time to the birth of Turbo Pascal. And John Shade decides not to delve into Apple's Map app flap and instead spends his whole column talking about cockroaches. You don't want to miss that!
Free to read and share, in epub for iPhone/iPad, mobi for Kindle and PDF formats from pragprog.com/magazines.
About Pragmatic Bookshelf
Please note our ebooks do not contain any Digital Restrictions Management, and have always been DRM-free; we pioneered the beta book concept; we'll email your ebook to your Kindle and synch your ebooks amongst your devices via Dropbox, including updates! (see our FAQ) read via Readmill, for social highlighting and sharing; and you can always come back and re-download your books when needed. We're here to make your life easier.
Don't Get Left Out
Are your friends jealous that you get these spiffy email newsletters and they don't? Clue them in that all they need to do is create an account on pragprog.com (email address and password is all it takes) and select the checkbox to receive newsletters.
Are you following us on Twitter and/or Facebook? Here's where you can find us and keep up with the latest news and commentary, and occasional discounts.
Coming Soon:
Read what you've got already! Seriously.
Recently Released:
Thanks for your continued support,
Andy & Dave

Books • eBooks • Screencasts • PragPub Magazine
PragProg.com