Cutting An Agile Groove Videos; Help Wanted at PragProg.com
September 28, 2011
Sometimes reading a book just isn't enough. You need to engage more senses: to hear the words, to see the presenter, to feel the live audience's reactions. Cutting an Agile Groove is a series of live, full-motion videos of noted presenter and agile consultant David Hussman. The first set of three videos is now available from pragprog.com/screencasts/v-dhcag, with the next two sets to follow shortly.
To learn more about Dude's Law and the series in general, watch the free introduction segment: 10 min, QuickTime | iPhone/iPod | Ogg.
And read on to learn about help wanted at the Bookshelf and this week's favorite customer email.
Cutting An Agile Groove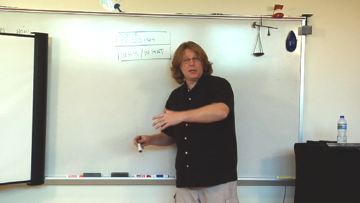 You've struggled to bring agile practices to projects but have been frustrated by buzzword-heavy books and presentations that seem to have been written by academics. What you want is straight talk giving practical advice on the real problems that you face in leading or working in agile teams.
Developing Customers and Products
is the
first release in the series
. It contains three instructional videos that will improve your product design skills and help you build better backlogs:
In Collaborative Chartering you'll learn how to get project teams and programs on the same page early. You'll learn how to bond your team around what matters: goals, success measures, constraints, and delivery cadence.
Pragmatic Personas shows you how to bring your users to life for your team. Using personas as design targets lets you focus on what is needed instead of what is specified.
In Story Mapping you'll acquire skills that radically improve your backlogs and user stories. The tools you'll acquire here let you grasp the "big picture" missing on so many agile projects. Story Mapping will help you connect teams through a clearer connection to business processes, test cases that cross stories, and end-user documentation.
The Cutting an Agile Groove series provides concrete tools for people on agile teams, people trying to introduce lasting change, and people who are completely new to agile methods. Whether you call yourself a coach, Scrum Master, tech lead, manager, director, or product owner, the series will give you essential tools for coaching, product design, and planning.
The first release is now available from pragprog.com/screencasts/v-dhcag.
Help Wanted
The gerbils can't do it alone.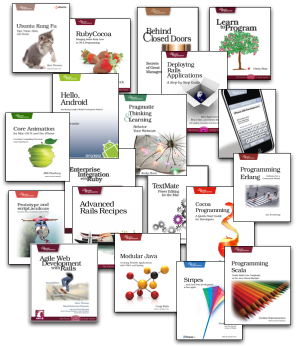 Without smart software, the Pragmatic Bookshelf wouldn't exist. Everything we do relies on it, from book preparation, through book production, to the online store, fulfillment, royalty payments, and administration. We're looking for someone really smart to take on the challenge of supporting and enhancing our systems.
More information about the position, and how to apply, is available at pragprog.com/help-wanted/software-developer.
Publishing: The Next Generation
We get a lot of great comments, emails, and tweets from our readers around the world. This email from Tim Chambers really caught our attention. As we lament the loss of real brick-and-mortar bookstores like Borders, we're often reminded that the past wasn't always all that great:
"Nothing is quite like the old days where you went to the book store and it smelled so great. You picked through a ton of old/new books, found one and bought it, then took it home and started reading. What a joke.
"The minute you walked out of the store it was OLD INFO. (Probably before then even). And it was cast in stone…well, paper. You would never hear from the author, or be able to email them, or critique their book so it could improve. And you would NEVER ever get an update without buying the next printing.
"Now I buy a book from Pragmatic Bookshelf—even a book still IN-PROGRESS, as it's being written. And I get it the same hour. Then when something improves in the material, I get a nice email to let me know from those nice folks, AND I get a link to MY Kindle so I know I can get a fresh copy. It is almost like it is OUR book, not the Author's book or MY book, but OUR book.
"Wow—no more good old days. Thank God! Man I am glad those days are gone."
Don't Get Left Out
Are your friends jealous that you get these spiffy email newsletters and they don't? Clue them in that all they need to do is create an account on pragprog.com (email address and password is all it takes) and select the checkbox to receive newsletters.
Are you following us on Twitter and/or FaceBook? Here's where you can find us and keep up with the latest news and commentary:
Coming Soon:
The Developer's Code
Programming Node.js
Programming Your Home
Recently Released:
Thanks for your continued support,
Dave & Andy

Books • eBooks • Screencasts • PragPub Magazine
PragProg.com