Deploying with JRuby now in beta; PragPub magazine
Deploying with JRuby now in beta; PragPub magazine
March 07, 2012
It's a busy time this week at the house of PragProg. New in beta this week is Joe Kutner's Deploying with JRuby: Deliver Scalable Web Apps using the JVM, your guide to deploying Ruby apps in a JVM environment.
Arduino: A Quick-Start Guide is now updated to Arduino 1.0, the latest version of this popular DIY platform.
And last but not least, March brings us the latest issue of PragPub magazine.
Enjoy!
Deploying with JRuby: Deliver Scalable Web Apps using the
JVM
JRuby deployments have fewer moving parts and consume less memory than traditional Ruby deployments, but to deploy your apps on the JVM, you need to learn some new approaches. This book introduces you to three JRuby deployment strategies that will give you the performance and scalability you need while letting you use the language you love.
You'll start by porting an existing application to JRuby, preparing the app to take advantage of the JVM platform. Then you'll use Vagrant and Puppet to build a virtual production environment so you have a stable, reproducible place to explore JRuby deployment.
With your environment in place, you'll experiment with simple JRuby deployment with Warbler as you package your Ruby web application into a single file you can deploy to a Java application server. Next you'll set up the lightweight Trinidad web server to create a more flexible, modular deployment that fits more complex situations but still feels friendly and familiar to Ruby developers. You'll switch to powering your app with TorqueBox, an all-in-one JRuby environment that includes built-in support for messaging, scheduling, and daemons—perfect for handling the "big jobs." Then, you'll set up a continuous integration environment with Jenkins so you can deploy like the pros.
Deploying with JRuby is the missing link between enjoying JRuby and using it in the real world to build high-performance, scalable applications.
Want to see how easy it is to do? Watch the video
Now available from pragprog.com/book/jkdepj.
Arduino: A Quick-Start Guide updates to 1.0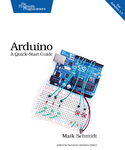 Arduino is an open-source platform that makes DIY electronics projects easier than ever. Even if you have no electronics experience, you'll be creating your first gadgets within a few minutes. Step-by-step instructions show you how to build a universal remote, a motion-sensing game controller, and many other fun, useful projects. This book has now been updated for Arduino 1.0, with revised code, examples, and screenshots throughout. We've changed all the book's examples and added new examples showing how to use the Arduino IDE's new features. This update is free for existing ebook owners.
If you don't own a copy yet, head on over to pragprog.com/book/msard.
March PragPub Magazine
What's the smallest instruction set that a functional computer could have? The answer is: one instruction. You can build all of logic and computation you need from combinations of a single NOR gate. But would you be crazy enough to do it? Alexander Demin decided the answer was yes, and he shares his experience—and his code—in the latest issue of PragPub. Follow along as he builds an assembler and an emulator for a single-instruction CPU and implements a non-trivial algorithm on it, using Ruby as a macro DSL to compile it all.
Apart from that adventure in Ruby-as-assembly-language, we're highlighting Scala again in this issue, with two articles that approach the language very differently. Scala expert Venkat Subramaniam (Programming Scala) continues his tutorial series on the language, looking at Scala's capabilities for pattern matching. And Brian Tarbox, an unabashed Scala newbie, shares his experience in porting a Java program to Scala.
To Zee Spencer, pair programming is a powerful tool, and you know what can happen if you don't use power tools carefully. Zee shares four antipatterns of pairing that he's figured out over the years. Avoid these and this tool will be less likely to bite you.
Also in this issue, John Shade takes on the government and we introduce our latest Pragmatic team member. We hope you enjoy it.
As a final goody in this issue, we share an IFTTT recipe to automatically download the latest issue of PragPub to your Kindle when we tweet its announcement.
Now available, free to read and share from pragprog.com/magazines
Don't Get Left Out
Are your friends jealous that you get these spiffy email newsletters and they don't? Clue them in that all they need to do is create an account on pragprog.com (email address and password is all it takes) and select the checkbox to receive newsletters.
Are you following us on Twitter and/or Facebook? Here's where you can find us and keep up with the latest news and commentary:
Coming Soon:
Build Awesome Command-Line Applications in Ruby in print
The dRuby Book: Distributed and Parallel Computing with Ruby in print
The Rails View in print
Rails Recipes: Rails 3 Edition in print
Recently Released:
Thanks for your continued support,
Andy & Dave

Books • eBooks • Screencasts • PragPub Magazine
PragProg.com