Fixing Your Scrum; Programmer Passport: Prolog
January 15, 2020
---
Best Sellers:
Make sure you haven't missed anything!
Are you using Scrum? Are you happy with it? Or is it broken, a little or a lot? See how to fix your Scrum and solve the most common issues facing development teams today with Fixing Your Scrum: Practical Solutions to Common Scrum Problems. The ebook is now content complete and available from pragprog.com/book/rrscrum. For the paperback edition, please support your local independent bookstore.
Joe Armstrong, creator of Erlang, passed away on April, 20, 2019. Today, our friends at Groxio are launching their Joe Armstrong tribute on Programmer Passport. For the first time, you can get one week of each of the next three languages for free.
Groxio Tribute to Joe Armstrong
You could say that Programmer Passport would not exist without Joe. The series is based on the best-selling Seven Languages in Seven Weeks book. It was Joe who mentored Bruce Tate in the Prolog and Erlang languages, and who opened the door to a greater audience by providing his kind voice in a foreword to the book. The two programmers remained friends until Joe's passing.
Groxio will kick off the series on January 15 with one of Joe's favorite languages, Prolog. Elang's syntax and pattern matching are heavily informed by Prolog. Then, on to Elixir on March 16, the language based on Erlang. You'll see some of Joe's favorite Elixir features, including for-comprehensions and binary pattern matching. Finally, Groxio will wrap things up with an exploration of OTP on May 15, the library that allows unprecedented reliability and performance on both Erlang and Elixir.
To join in, just go to grox.io and create an account if you've not already done so. Prolog will be available for free at grox.io/languages/prolog from 1/15 through 1/21. If you like what you see, you can stay involved for $15/month or $150/year.
Fixing Your Scrum: Practical Solutions to Common Scrum Problems
A Scrum Master needs to know when their team is in trouble and understand how to help them get back on the path to delivery. Become a better Scrum master so you can find the problems holding your teams back. Has your Daily Scrum turned into a meeting? Does your team struggle with creating user stories? Are stakeholders disengaged during Sprint Review? These issues are common. Learn to use empiricism as your guide and help your teams create great products.
Scrum is so much more than a checklist of practices to follow, yet that's exactly how many organizations practice it. Bring life back to your Scrum events by using advanced facilitation techniques to leverage the full intelligence of your team. Improve your retrospectives with new formats and exercises. Ask powerful questions that spark introspection and improvement. Get support and buy-in from management. Use Scrum as a competitive advantage for your organization. Create a definition of done that improves quality and fix failing sprints.
Take the next step on your journey as a Scrum master. Transform your Scrum practices to help your teams enjoy their work again as they deliver high-quality products that bring value to the world.
Now in print: The ebook is content complete and available from pragprog.com/book/rrscrum. For the paperback edition, please support your local independent bookstore.
Programmer Passport: Prolog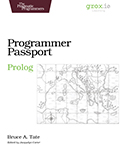 Today, Prolog is widely used in academic settings to illustrate constraint logic programming, a programming family that involves establishing a domain and constraints to express a program. The solutions algorithms are left to the language! In this book, you'll explore some iconic programming problems, including solving a sudoku, the map coloring problem, and the eight queens problem. Then, you'll explore graphs and the navigation of schedules. Don't miss this one!
Upcoming Author Appearances
2020-01-17 Cesario Ramos,
"A Scrum Book" Course by Kiro Harada and Jim Coplien
2020-01-21 Andrew Hunt,
Carolina Theatre, Durham NC
2020-01-30 Cesario Ramos,
"A Scrum Book" Course by Cesário Ramos and Jim Coplien
2020-01-31 James O. Coplien,
Vienna, Austria
2020-02-06 Johanna Rothman,


OOP

, Munich
2020-02-13 George Dinwiddie,
Agile Charm, Baltimore MD
2020-02-18 Paolo Perrotta,
ParisRB Conf 2020, Paris
2020-02-24 Ethan Garofolo,
O'Reilly Software Architecture Conference, New York City
You Could Be a Published Author
Is there a tech topic you are deeply passionate about and want to share with the rest of us? You could become a published Pragmatic Bookshelf author! Take a look at our pragprog.com/write-for-us page for details, including our 50% royalty (yes, for real!) and world-class development editors.
Don't Get Left Out
Are your friends jealous that you get these spiffy email newsletters and they don't? Clue them in that all they need to do is create an account on pragprog.com (email address and password is all it takes) and select the checkbox to receive newsletters.
Are you following us on Twitter and/or Facebook? Here's where you can find us and keep up with the latest news and commentary, and occasional discounts:
Tell your friends! Tweet this
Follow us on Twitter: pragprog</a>, <a href="http://twitter.com/pragpub">pragpub, Andy Hunt @PragmaticAndy.
Coming Soon:
Modern Systems Programming with Scala Native, in print
Build Talking Apps: Develop Voice-First Applications for Alexa, in beta
Recently Released:
Thanks for your continued support,
Andy Hunt
Publisher, Pragmatic Bookshelf

Books • eBooks • PragPub Magazine • Audiobooks and Screencasts
PragProg.com