iOS SDK Development; Cutting an Agile Groove Full Series released
December 14, 2011
Just in time for your Christmas list and holiday gift-giving! We're very excited to announce two hot titles this week: iOS SDK Development and David Hussman's full video lecture series, Cutting an Agile Groove.
iOS
SDK

Development
Since the iPhone's launch in 2008, the iOS platform has added two new device families, thousands of new APIs, new tools and programming practices, and hundreds of thousands of new apps. iOS SDK Development is the second edition of the bestselling iPhone SDK Development, completely rewritten from the ground up to cover iOS 5's new features.
You'll get hands-on experience working with Objective-C and Xcode 4 as you work through this tutorial-style book with two experienced iOS developers by your side. Along the way, you'll learn the fundamentals of maintainable, performant iOS programming, including:
Making apps that are multi-core-capable, testable, internationalizable, and that use less memory.
Understanding the underlying concepts of touch event handling, drawing and animation, multi-core concurrency, and memory management with iOS 5's new Automatic Reference Counting.
Creating and using unit tests to ensure your app continues to work as intended even as the codebase evolves.
Working through Apple's App Store processes, including preparing apps for submission, avoiding rejections, and understanding crash reports from end users.
Whether you're a first-time iOS developer, or you're looking to get up to speed with all the changes to Apple's tools and frameworks, iOS SDK Development is the solid grounding you need to master this popular platform.
Now available in beta from pragprog.com/book/adios.
Cutting an Agile Groove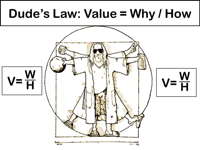 You've struggled to bring agile practices to projects but have been frustrated by buzzword-heavy books and presentations that seem to have been written by academics. What you want is straight talk giving practical advice on the real problems that you face in leading or working in agile teams.
This video series was recorded in front of a live audience and is divided into three sections: Planning to Coach, Developing Customers and Products, and Discovery and Delivery, each of which contains multiple episodes.
The Cutting an Agile Groove series provides concrete tools for people on agile teams, people trying to introduce lasting change, and people who are completely new to agile methods. Whether you call yourself a coach, Scrum Master, tech lead, manager, director, or product owner, the series will give you essential tools for coaching, product design, and planning.
David Hussman has helped scores of coaches and Scrum Masters successfully guide teams with agile methods, and now you can benefit from his experience at your own pace. If you, or someone in your company, is thinking about using Agile for a project, the Cutting an Agile Groove series contains a wealth of techniques and tools for getting the project going in the right direction.
Save 60% when you buy the whole series.
Now available in multiple formats from pragprog.com/screencasts/v-dhcag.
Don't Get Left Out
Are your friends jealous that you get these spiffy email newsletters and they don't? Clue them in that all they need to do is create an account on pragprog.com (email address and password is all it takes) and select the checkbox to receive newsletters.
Are you following us on Twitter and/or Facebook? Here's where you can find us and keep up with the latest news and commentary:
Coming Soon:
Pragmatic Guide to Sass in print
Web Development Recipes in print
The Cucumber Book in print
Programming Node.js in beta
Recently Released:
Thanks for your continued support,
Andy & Dave

Books • eBooks • Screencasts • PragPub Magazine
PragProg.com