Naked Objects and Web Design for Developers in print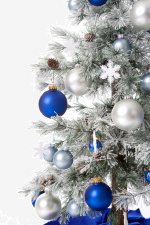 Season's Greetings! As the year draws to a close, we've got a couple of last-minute gift suggestions for you, including two new titles in print this week.
For family and friends:
Pomodoro Technique Illustrated makes a great gift for anyone who's pressed for time these days, whether they are a developer or not. If you want to get someone in your family started on a programming language, take a look at Learn to Program.
For developers:
Need to concentrate on the business logic and have the details just take care of themselves? Take a look at Domain-Driven Design Using Naked Objects. No web designer on staff, or need to spruce up your personal website? Web Design for Developers will get you there. And any of our other paper and eBook titles make great gifts.
Domain-Driven Design Using Naked Objects
You need to concentrate on the business logic of your application, working closely with users to develop the features they desperately needed yesterday. That means you can't afford to waste time working on the plumbing: the repetitive, boring-but-necessary bits that every app needs. Wouldn't it be great to just write the naked domain objects themselves?
In this book, Dan Haywood gives you the tools to represent your domain as plain old Java objects, so you can express business rules both declaratively and imperatively. The Naked Objects framework then automatically renders your domain objects for a rich client, or in HTML. Next, you'll learn the techniques to deepen your design while keeping it maintainable as the scope of your application grows. Finally, you'll walk through the development practices needed to implement your domain applications, taking in testing (using technologies such as FitNesse), deployment, and extending Naked Objects itself.
Throughout the book, you'll build a complete sample application, learning key domain-driven design principles as you work through the application step by step. Every chapter ends with exercises to gain further experience in your own projects. Using Naked Objects, you'll be ready in no time to build fully featured domain-driven applications.
Now available from pragprog.com/titles/dhnako
Web Design for Developers
Web Design for Developers will show you how to make your web-based application look professionally designed. You'll learn how to pick the right colors and fonts, avoid costly interface and accessibility mistakes, and make your application really come alive.
We'll also walk through some common Photoshop and CSS techniques and work through a website redesign, taking a new design from concept all the way to implementation.
You'll learn how to take a sketch and transform it into a digital mockup in Photoshop, and then finally into a working web page. You'll see how to develop logos, icons, and buttons using Illustrator and Photoshop, and then code a web page that will load fast, be easy to maintain, and most of all, be accessible to all audiences.
Now available from pragprog.com/titles/bhgwad
Coming Soon:
Language Implementation Patterns in print

SQL

Antipatterns: Avoiding the Pitfalls of Database Programming in beta
Metaprogramming Ruby in print
January issue of PragPub
Recently Released:
Thanks for your continued support,
Dave & Andy
www.PragProg.com