iCloud for Developers: Automatically Sync Your iOS Data, Everywhere, All the Time
July 24, 2013
It's hot. Summer languishes on, and your thoughts wander to the fluffy white clouds drifting by…
Fluffy white clouds filled with data. Your data. Synchronized to your iOS device through iCloud.
Curious? See how to make it happen with iCloud for Developers: Automatically Sync Your iOS Data, Everywhere, All the Time, now in print and shipping from pragprog.com/book/cricloud.
iCloud for Developers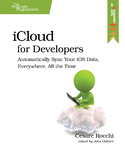 Your iOS app's users want their application data to be in sync as they switch from one device to another. Guided by iOS expert Cesare Rocchi, you'll start by learning how to configure an app and its resources for iCloud. Then, after a quick introduction to iCloud-supported data types, you'll work on using the simplest: key-value data.
Next, you'll find out how to get your document-based data (including media files), and even relational data working with iCloud. As you learn each new technique, you'll use it to synchronize yet another module of the book's sample app, Grocery, a simple shopping list that can be shared between two or more devices. You'll learn how to handle the kinds of conflicts likely to occur when you build apps that keep themselves in sync across phones and tablets, as well as how to deal with the notifications used by iCloud to broadcast changes as they occur.
As devices proliferate, synchronization is more important than ever. When you finish this book, you'll know how to make it a part of your own applications.
Now in print and shipping from pragprog.com/book/cricloud.
Upcoming Author Appearances
Did you Know?
If you've bought a paperback copy of one of our titles, you can still buy the ebook at our discounted "combo" price—even if you bought the paperback from a book store. Look on the last page of your paper book for directions.
Don't Get Left Out
Are your friends jealous that you get these spiffy email newsletters and they don't? Clue them in that all they need to do is create an account on pragprog.com (email address and password is all it takes) and select the checkbox to receive newsletters.
Are you following us on Twitter and/or Facebook? Here's where you can find us and keep up with the latest news and commentary, and occasional discounts:
Tell your friends! Tweet this Follow us on Twitter: pragprog</a>, <a href="http://twitter.com/pragpub">pragpub, Andy PragmaticAndy</a> and Dave <a href="http://twitter.com/pragdave">pragdave.
Coming Soon:
101 Design Ingredients to Solve Big Tech Problems
Good Math: A Geek's Guide to the Beauty of Numbers, Logic, and Computation
Test iOS Apps with UI Automation: Bug Hunting Made Easy
Seven Web Frameworks in Seven Weeks
Recently Released:
Thanks for your continued support,
Andy & Dave
The Pragmatic Programmers

Books • eBooks • PragPub Magazine • Audiobooks and Screencasts
PragProg.com
</br/>