Online Ruby Programming Course from Pragmatic Studio
Online Ruby Programming Course from Pragmatic Studio
April 25, 2012
Are you using Rails but find yourself getting stuck, or even bogged down? Do you want to really get the most out of Rails? Learning Ruby is the key. If you don't have a good grasp of the Ruby programming language, you're in for a bumpy ride. Take the time to really learn Ruby in Pragmatic Studio's new online course and it will pay off with every Ruby or Rails app you write.
Online Ruby Programming Course
In this comprehensive online course, you'll learn everything you need to know about Ruby to be a productive Rails programmer. Moreover, learning Ruby has benefits that go beyond Rails or even web programming. Ruby is a powerful tool in its own right.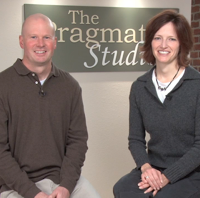 You'll also learn Ruby design principles and techniques helping you to become a better all-around Ruby programmer. We'll start at the beginning and work step-by-step to create a complete Ruby program. You'll learn exactly how all the pieces go together, and you'll come away with the confidence that you truly understand Ruby.
The Ruby Programming course helps you learn Ruby in a variety of ways:
25 HD-quality,

DRM

-free videos with personal instruction and live coding that you can either watch in the browser for an integrated learning experience, or download for offline viewing.
A comprehensive online workbook with step-by-step exercises for creating a full-featured Ruby app.
Access to a mailing list exclusively for participants of this course.
The best part is that since this is a video-based course, you can start taking it immediately and work through it at your own pace.
If you're a Ruby programmer who finds Ruby syntax daunting, or who doesn't always know which of the many options to choose when coding, this is the course for you. If you're a programmer in some other language looking for a fast way to get into Ruby, this is the course you need. If you want to learn at your own pace, to review material as you go, and take labs to validate your progress, you owe it to yourself to check this out.
"The structure and content are exactly what I need after bumbling about on my own for months getting to know Rails."—Ben Sharman
"The course is outstanding! The best I've ever taken. Rails is so much less mysterious now that I'm learning Ruby the right way."—Tony Barone
"I wish I had done this course BEFORE starting Ruby on Rails development. Loved it!"—Ed Wallitt
To find more about this course or get started learning Ruby, check out the introduction video.
Ruby on Rails Studio
Once you're comfortable writing Ruby code, learning Rails will be smooth sailing. There are two opportunities for you to learn Rails this summer from Dave Thomas and Jim Weirich. Our next two Ruby on Rails Studios are:
May 22-24 in Reston, VA
July 16-18 in Reston, VA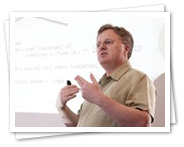 During this 3-day, hands-on course, you'll learn how to create high-quality Rails apps from start to finish. You'll come away from the course:
Ready to use the core features of Rails 3.2 to either build an app from scratch, or maintain an existing app.
Knowing how to apply various design techniques to work efficiently with the Rails framework.
Understanding more than just using Rails, you'll also learn why things are the way they are and how to use that to your advantage.
Hope to see you then!
Don't Get Left Out
Are your friends jealous that you get these spiffy email newsletters and they don't? Clue them in that all they need to do is create an account on pragprog.com (email address and password is all it takes) and select the checkbox to receive newsletters.
Are you following us on Twitter and/or Facebook? Here's where you can find us and keep up with the latest news and commentary:
Coming Soon:
Seven Databases in Seven Weeks in print
iOS

SDK

Development in print
Recently Released:
Thanks for your continued support,
Dave & Andy

Books • eBooks • Screencasts • PragPub Magazine
PragProg.com