Pomodoro Technique Illustrated; Grails in print
Where does the time go? Mostly whizzing past, it seems. But help is on the way! Now's your chance to take control of your day with the Pomodoro Technique Illustrated.
Please help us out. This is a different cover than we usually do, and we'd like to ask you your opinion. Please let us know what you think.
Interested in making Java web development easier? Your quest is to seek the grails! Grails: A Quick-Start Guide will show you how to save the kingdom. Or at least make development a whole lot easier.
Pomodoro Technique Illustrated
In Pomodoro Technique Illustrated, Staffan Nöteberg shows you how to organize your work to accomplish more in less time. There's no need for expensive software or fancy planners. You can get started with nothing more than a piece of paper, a pencil, and a kitchen timer.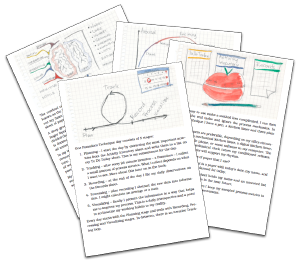 You have so much you need to accomplish today. Your list is a mile long and you find yourself getting interrupted every other minute. You'd like to tell everyone to leave you alone, but most of the interruptions are coming from you! You think of a phone call you need to make or a web site you need to check and before you know it you're answering email, checking Twitter, and finding a million other things to occupy your time.
You need to focus—really focus.
The Pomodoro Technique puts you back in charge of your day. You'll apply successful techniques from software engineering to identify what you should be doing today and to help you achieve your goals. Your mind won't wander when it is fully engaged in short bursts of focused activity.
Learn to work less and accomplish more using nothing more than paper, pencil, and a simple kitchen timer.
Set the timer and start on your next Pomodoro. When the bell rings take a break. This personal approach to timeboxing is at the core of the Pomodoro Technique and this book is filled with advice on how to get started and how to tailor it to your own needs.
Take a look at the Table of Contents or read an excerpt about handling interruptions, and take control of your day again.
Now available in Beta. The content is complete, but it has not yet been copyedited or typeset. See pragprog.com/titles/snfocus for more details or to order. Paper books will ship in November, just in time for the holidays.
Grails Quick-Start Guide
Grails is a full stack web development framework that enables you to build complete web applications in a fraction of the time and with less code than other frameworks.

In Grails: A Quick-Start Guide, you'll see how to use Grails by iteratively building a unique, working application. By the time we're done, you'll have built and deployed a real, functioning website.
Along the way, we'll learn about domain classes, controllers, and GSP views. We'll see how Grails allows us to use powerful frameworks like Spring and Hibernate without even knowing it.
Using this hands-on, pragmatic approach, we'll explore topics such as AJAX in Grails, custom tags, and plugins. We'll dig into Grails' powerful view technology, Groovy Server Pages, and see how we can easily leverage the help given to us by scaffolding to create custom user interfaces faster than you would have thought possible.
With Grails, you can get a lot done with little effort. With this book, you'll get a lot done as well. It's time to bring the fun back into web programming. Get started with Grails today.
Check out the full Table of Contents or read an excerpt from the introduction.
See pragprog.com/titles/dkgrails for more details or to order.
Enjoy!
Coming Soon:
Debug It! in print
Domain-Driven Design Using Naked Objects in print
The RSpec Book: Behaviour Driven Development with RSpec, Cucumber, and Friends in print
Security on Rails in print
Expression Engine in beta
… and another surprise. Maybe two.
Recently Released:
Thanks for your continued support,
Dave & Andy
www.PragProg.com