Pragmatic Guide to Sass now in print
December 21, 2011
The folks at dictionary publisher Merriam-Webster have proclaimed that the word of the year for 2011 is "Pragmatic." Well of course it is! It's been our "Word of the Year" since 1999.
And so for our last newsletter of 2011, we're pleased to announce the aptly named Pragmatic Guide to Sass, part of our eponymous Pragmatic Guide Series, is now in print and shipping. Read on for details.
Wishing you and yours a very happy holiday season and a Pragmatic New Year.
Pragmatic Guide to Sass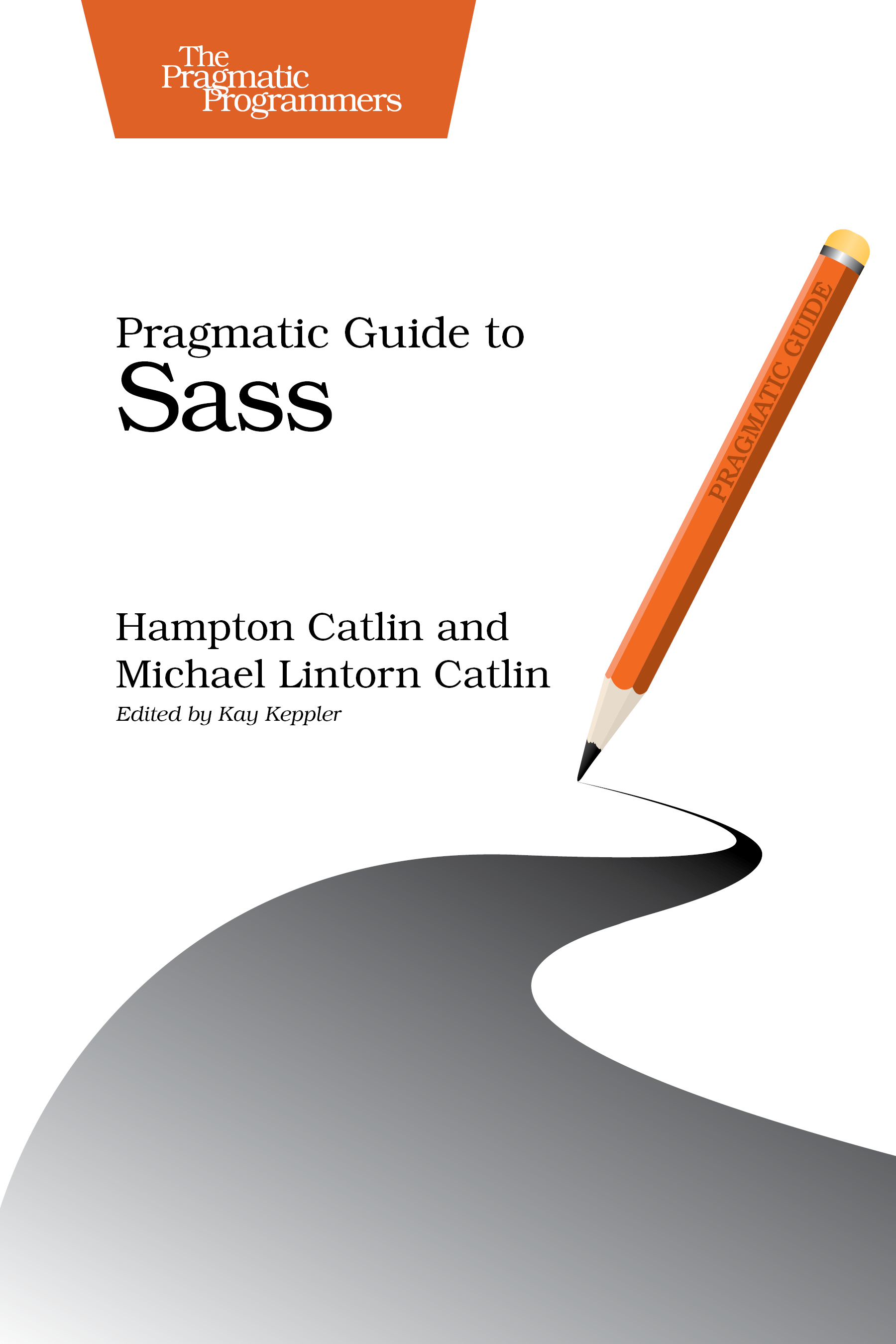 Written by Sass creator Hampton Catlin and Michael Lintorn Catlin, Pragmatic Guide to Sass shows you how to improve your CSS, from the basics to advanced topics, from first installation to sprucing up your buttons. You'll see how to code the right way in Sass thanks to short, clear examples. Two-page spreads show the explanation on one side and code examples on the other. You'll learn how to improve your pages in minutes.
You'll be able to perform amazing feats of CSS including using variables, calculating layouts, and modifying colors. Did you ever want to make a color 10% less saturated? We'll show you how to do that without needing a calculator.
Plus, learn about Compass, Sass's library of carefully built hacks, reusable parts, and frameworks. Find out how to shortcut cross-browser issues and develop mixins for shortening text and making lists more exciting. You'll wonder how you spent all those years styling sites without it!
Make things even easier with Blueprint, and discover how to use its predefined classes that you can apply to your Web site. From selector scoping to bundling, debugging, and designing custom functions, Pragmatic Guide to Sass will help you build the pages you've always wanted.
What folks are saying:
"Both a tutorial and a reference at the same time, and it'll be a handy go-to book for anyone working with Sass"—Peter Cooper, editor of Ruby Inside and HTML5 Weekly
"An invaluable reference"—Sam Stephenson, creator of Sprockets and the Rails asset pipeline
"Best practices in DRYing up your CSS with the power of Sass…should be on every web developer's shelf (and e-reader)"—Andrew Chalkley, technical writer, Screencasts.org
Now available in print and shipping from pragprog.com/book/pg_sass.
Early 2012 Rails and iOS Studios
We're excited to roll out our early 2012 training schedule! This past year, our alumni built a ton of great apps, and we're eager to help even more developers learn how to build outstanding iOS or Rails apps for themselves, their company, or perhaps to land a new job. Make plans now to keep your new year's resolution to take your skills up a notch. Sign up by December 26 to save $400!
Here's our line-up:
iPhone/iPad Programming Studio
January 23 – 26, 2012 in Denver, CO
March 6 – 9, 2012 in Denver, CO
April 10 – 13, 2012 in Reston, VA
January 23 – 25, 2012 in Denver, CO
March 20 – 22, 2012 in Reston, VA
In our iPhone Programming Studio, you'll learn how to use the major tools and APIs in the latest iOS 5 SDK. You'll come away from this course ready to create your first iPhone/iPad app, or improve your existing app. Throughout the four days you'll build six example apps to boost your confidence and gain valuable hands-on experience. See all the details at
pragmaticstudio.com/iphone
In our Ruby on Rails Studio, you'll learn how to use the core features of Rails 3.1, and put them all together to build web apps like the pros. You'll gain hands-on experience with Rails during the course, and return to your project ready to build your own Rails apps! See all the details at pragmaticstudio.com/rails
We hope to see you in 2012!
Don't Get Left Out
Are your friends jealous that you get these spiffy email newsletters and they don't? Clue them in that all they need to do is create an account on pragprog.com (email address and password is all it takes) and select the checkbox to receive newsletters.
Are you following us on Twitter and/or Facebook? Here's where you can find us and keep up with the latest news and commentary:
Coming Soon:
Web Development Recipes in print
The Cucumber Book in print
Programming Node.js in beta
Recently Released:
Thanks for your continued support,
Dave & Andy

Books • eBooks • Screencasts • PragPub Magazine
PragProg.com