Pragmatic Guide to Subversion now in print
November 17, 2010
Subversion is the most popular open-source version control system on the planet. It's widely used both in Enterprise IT and open-source projects all over the world. If you've got time to learn it thoroughly inside and out, that's great. And if not, there's our Pragmatic Guide to Subversion, now in print and shipping from pragprog.com/titles/pg_svn.
The special PickAxe for $10 anniversary sale is still available, for a very limited time.
And don't forget that PragProWriMo is now half-way through. Keep going on your own writing project!
Tell your friends! Tweet this
Pragmatic Guide to Subversion
In Pragmatic Guide to Subversion, author Mike Mason shares the features and practices that have made Subversion so successful. Each of the 48 tasks selected for the book is presented as a quick two-pager, with a succinct description on the left side and a quick reference on the right. The book is designed for experienced developers—you want to get straight to the tricks and traps you'd otherwise learn by trial and error.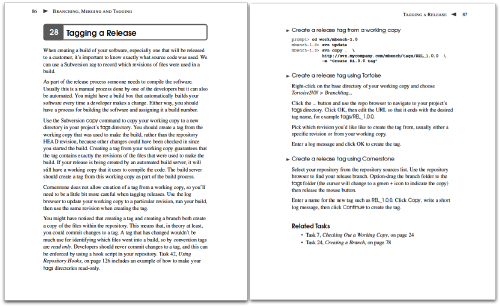 Subversion started life as a command-line tool, but graphical clients are now extremely popular and can offer a lot of extra power. You'll see how to carry out each task in Pragmatic Guide to Subversion via the regular command-line client as well as the TortoiseSVN graphical client for Windows, and the Cornerstone graphical client for Mac.
Whether or not you've used other version control tools, you'll learn Subversion's popular way of working—how to access your source code, make changes, and share them with your team.
You won't find a more practical approach to learning Subversion than Pragmatic Guide to Subversion.
Available now in print and ebook formats from pragprog.com/titles/pg_svn
Coming Soon:
The RSpec Book: Behaviour-Driven Development with RSpec, Cucumber, and Friends in print first week in December.
Agile in a Flash card deck
HTML5 and CSS3: Develop with Tomorrow's Standards Today in print
Rails Test Prescriptions: Keeping Your Application Healthy in print
Code in the Cloud: Programming Google AppEngine in print
Recently Released:
Thanks for your continued support,
Andy & Dave

Books * eBooks * Screencasts * PragPub Magazine
www.PragProg.com