PragPub for December, upcoming Holiday Treats
December 05, 2012
Welcome to the last month of 2012. Or as it's known on the ancient Mayan Calendar, just the "last month."
The latest issue of our free magazine PragPub is now available for you to read and share from pragprog.com/magazines.
And just in time for the gift-giving season, next week we'll have our first audio book, the unabridged Pomodoro Technique Illustrated as well as the ground-breaking RubyMotion, which allows you to write native iOS apps for iPhone/iPad/iThingies using Ruby instead of Objective-C.
Enjoy!
PragPub
On December 19, 1871, Mark Twain received the first of his three patents for suspenders.
And that's not even the most exciting news we have for you this month!
Paul Callaghan is back this month with another meaty article on the Haskell language. The special twist this time around is that he's showing examples of Web programming in Haskell, and along the way introduces Fay, which is Haskell's answer to CoffeeScript.
We're launching a new department this month on productivity. The focus is on the Pomodoro Technique, and Matthias Günther will take us along with him as he tries to become a Self-Certified Pomodoro Master. You might think that sounds like a made-up title, and you'd be right. Matthias figures that, since the technique is a self-help technique for getting organized, you ought to be able to self-certify as a master in the technique. Just so you know it's all right, Matthias met Francesco Cirillo, the inventor of the technique, and Francesco thought it was a great idea.
Jesse Anderson has some advice for anyone shepherding their company onto the cloud. You can run into resistance from a lot of sources, and Jesse shows you the right approach for overcoming resistance to a cloud move for every likely source.
Brian Tarbox changed jobs recently, going from a really, really big company to a really small startup. He's had to rethink everything he thought he knew about agile development, and he shares the insights he picked up in the process.
Commodore International and its founder, Jack Tramiel, were hugely important in the history of the personal computer. Remember the Commodore 64? Then you might want to follow me down memory lane in a little tribute article to Jack and what Jack built.
The other regular features are here, of course, and John Shade tells you that all he wants for Christmas is—no, not suspenders. Good guess, but that's not it. What John wants but won't get is a 3D printer. And then he tells you all the reasons you should be very, very worried about 3D printing.
Learn Ruby, Rails or iOS Programming in the New Year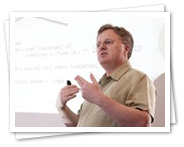 While Santa might bring you a new MacBook Air for Christmas, he can't teach you how to write Ruby, Rails, or iOS apps. But we can help, and we'll even supply the milk and cookies. We'll get you from idea to deployment fast! Make plans today to join us in the new year and learn how to make high-quality applications with live, hands-on instruction. Our next two courses are:
You'll learn how to design and build high-quality apps from start to finish with two expert instructors in both courses. You'll come away knowing the tools, techniques, and design principles to help you quickly become productive. Reserve your seat early to get the best price!
Are you already using Rails but find yourself getting stuck, or even bogged down with the Ruby language? The secret to using the Rails framework effectively is to really learn and understand the Ruby programming language. Check out our comprehensive, online Ruby course:
You'll learn everything you need to know about Ruby to be a productive Rails programmer. And since it's an online course, you can learn at your own pace when and where it's convenient for you. You can rewatch the videos, redo the exercises, and revisit the course as often as you like.
Hope to see you in the Pragmatic Studio in the New Year!
Don't Get Left Out
Are your friends jealous that you get these spiffy email newsletters and they don't? Clue them in that all they need to do is create an account on pragprog.com (email address and password is all it takes) and select the checkbox to receive newsletters.
Are you following us on Twitter and/or Facebook? Here's where you can find us and keep up with the latest news and commentary, and occasional discounts.
Coming Soon:
In time for Christmas:
Pomodoro Technique Illustrated audio book next week!
RubyMotion Pragmatic exPress next week!
Recently Released:
Thanks for your continued support,
Dave & Andy

Books • eBooks • Screencasts • PragPub Magazine
PragProg.com