May 13, 2020
---
Best Sellers:
Make sure you haven't missed anything!
Our friends at Groxio continue their tribute to Joe Armstrong, with Programmer Passport: OTP now available. This course will have three instructional videos with every release—for 12 total—with four chapters and two projects to help you learn quickly.
Programmer Passport:
OTP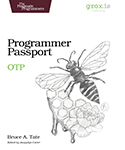 Elixir and Erlang systems can spawn applications with hundreds of thousands of processes without skipping a beat, and perhaps the most important feature in either of these languages is OTP.
OTP is a set of libraries and APIs that enable applications with extraordinary reliability and scalability through concurrency. In the next four releases, we'll cover the main two abstractions that make up OTP: the boundary and lifecycle layers.
In this first chapter, we'll build a calculator application without OTP. We'll use native processes and message passing rather than the OTP library. Using this approach, you will develop an intuition for how OTP works. Then, we'll wrap the application in an API, and show how we might implement that API using OTP instead.
In chapter 2, we'll look at communication between servers. You can think of a GenServer as a template for your code. You can fill in the blanks with callbacks, bits of code you'll implement in your own modules. When we work with OTP, the GenServer library builds the generic lifecycle management and message loops, leaving the rest to your application.
The GenServer calls your application's callback functions at specific times. When things break down, OTP just turns it off and on again!
Want to learn more? Subscribe to Programmer Passport at Grox.io!
You Could Be a Published Author
Is there a tech topic you are deeply passionate about and want to share with the rest of us? You could become a published Pragmatic Bookshelf author! Take a look at our pragprog.com/write-for-us page for details, including our 50% royalty (yes, for real!) and world-class development editors.
Upcoming Author Appearances
Don't Get Left Out
Are your friends jealous that you get these spiffy email newsletters and they don't? Clue them in that all they need to do is sign up at pragprog.com (email address and password is all it takes).
Are you following us on Twitter and/or Facebook? Here's where you can find us and keep up with the latest news and commentary, and occasional discounts:
Tell your friends! Tweet this
Follow us on Twitter: pragprog</a>, Andy Hunt <a href="http://twitter.com/PragmaticAndy">PragmaticAndy.
Coming Soon:
Become an Effective Software Engineering Manager, in print
Testing Elixir, in beta
Using Elixir for Graphs, in beta
555 Timers and How to Use Them, in beta
Recently Released:
Thanks for your continued support,
Andy Hunt
Publisher, Pragmatic Bookshelf

By Professional Developers, for Professional Developers
PragProg.com
</br/>