May 16, 2011
RailsConf is being held this week in Baltimore, and we'd like to thank the Rails community by offering selected Rails and Ruby titles on sale for 40% off, this week only. The discount will be automatically applied when you place sale items in your cart on pragprog.com.
This offer is not retroactive and only applies to selected titles purchased from May 16 to May 20 directly from our online store at pragprog.com. No additional coupons or discounts apply. Void where prohibited, do not use paper books in water.
The following titles are on sale: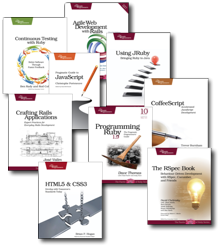 Come and get it!
Tell your friends! Tweet this
Coming Soon:
Continuous Testing: with Ruby, Rails, and JavaScript in print
Programming Concurrency on the

JVM

: Mastering Synchronization,

STM

, and Actors in print
iOS Recipes: Tips and Tricks for Awesome iPhone and iPad Apps in print
Recently Released:
Thanks for your continued support,
Andy & Dave
www.PragProg.com
Books  *  eBooks  *  Screencasts  *   PragPub Magazine