Seven Databases in Seven Weeks now in Beta
November 30, 2011
This crazy tech world just keeps on a-changing. If you hadn't noticed, SQL-based databases are now just one option among many. Get up to speed on "what to use and when to use it" with Seven Databases in Seven Weeks, now in beta from pragprog.com/book/rwdata. In the tradition of Bruce A. Tate's Seven Languages in Seven Weeks (pragprog.com/book/btlang), this book goes beyond your basic tutorial to explore the essential concepts at the core of each technology.
Seven Databases in Seven Weeks: A Guide to Modern Databases and the NoSQL Movement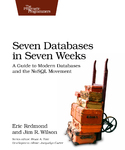 Redis, Neo4J, Couch, Mongo, HBase, Riak, and Postgres: with each database, you'll tackle a real-world data problem that highlights the concepts and features that make it shine. You'll explore the five data models employed by these databases: relational, key/value, columnar, document, and graph. See which kinds of problems are best suited to each, and when to use them.
You'll learn how MongoDB and CouchDB, both JavaScript powered, document oriented datastores, are strikingly different. Learn about the Dynamo heritage at the heart of Riak and Cassandra. Understand MapReduce and how to use it to solve Big Data problems.
Build clusters of servers using scalable services like Amazon's Elastic Compute Cloud (EC2). Discover the CAP theorem and its implications for your distributed data. Understand the tradeoffs between consistency and availability, and when you can use them to your advantage. Use multiple databases in concert to create a platform that's more than the sum of its parts, or find one that meets all your needs at once.
Seven Databases in Seven Weeks will give you a broad understanding of the databases, their strengths and weaknesses, and how to choose the ones that fit your needs.
Now in beta, in non-DRM PDF, epub, and mobi from pragprog.com/book/rwdata.
Don't Get Left Out
Are your friends jealous that you get these spiffy email newsletters and they don't? Clue them in that all they need to do is create an account on pragprog.com (email address and password is all it takes) and select the checkbox to receive newsletters.
Are you following us on Twitter and/or Facebook? Here's where you can find us and keep up with the latest news and commentary:
Coming Soon:
Lean from the Trenches in print
Cutting An Agile Groove the full screencast series
iOS

SDK

Development in beta
Programming Node.js in beta
Pragmatic Guide to Sass in print
Recently Released:
Thanks for your continued support,
Andy & Dave

Books • eBooks • Screencasts • PragPub Magazine
PragProg.com