Stanza bookshelf, iPad, Test-Driven Development for Embedded C
March 31, 2010
The iPad cometh, and we've got you covered. Also, you can now view and download books from your own bookshelf in the Stanza reader, and Test-Driven Development for Embedded C is now available in beta.
Tell your friends! Tweet this
iPad this weekend
We're expecting the iPad non-disclosure to be lifted this weekend. As soon as it is official, we'll announce and release iPad Programming: A Quick-Start Guide for Developers in early beta. Join us for the fun as we follow the twists and turns of this remarkable new device.
iPad Programming: A Quick-Start Guide for Developers is aimed at experienced iPhone developers. If you're new to the Mac development scene, you'll probably want to start with iPhone SDK Development. If you're new to programming in general, then take a look at Beginning Mac Programming: Develop with Objective-C and Cocoa.
Please remember this is an early beta, so there will be plenty of changes as the book grows and we all get a chance to play hands-on with the iPad.
Pragmatic Bookshelf in Stanza
Now you can enjoy the convenience of your own pragprog.com bookshelf in the Stanza eBook reader.
Using your iThingy (be it a phone, pod or pad), navigate to pragprog.com and you'll see a special menu: select Download my eBooks, then click on Open list in Stanza. You'll save pragprog.com as a book source. Next, click on that book source and you'll be asked to authenticate your account login (the pragprog.com email and password). Log in, and now you'll see your own personal bookshelf listed within Stanza.
You can download and manage your titles from here: download one book at a time, or all at once. And, as we update the titles, you'll see that your Stanza bookshelf will offer to download the new release. This is pretty fun, so keep an eye out as we play with new features and fix rough edges.
It's an even easier way to manage and read your Pragmatic Bookshelf titles when you're on the go (and aren't we all).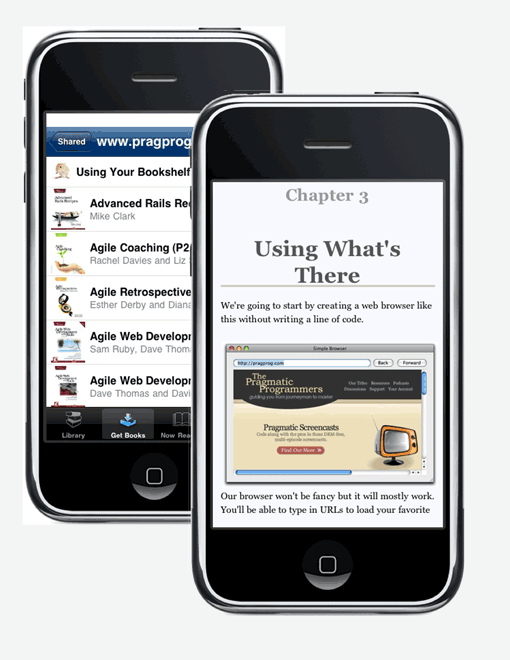 Test-Driven Development for Embedded C
Did you write C code last week? Does your code work? Is your design clean? If you answered yes to the first question but got queasy over the second two, you need to know about Test-Driven Development. TDD helps you write code that works the first time, and then helps you keep it running as the code evolves to meet new needs.
In Test-Driven Development for Embedded C, author James W. Grenning shows embedded software developers how to bring the benefits of TDD to embedded C.

In the book, you'll see how to apply TDD to C and the world of embedded software development. Learn how to break key dependencies, allowing code to be tested thoroughly. Explore how to test-drive your product's core logic, exploiting the power of your development environment to deliver better software.
In fact, as the book shows, you can test-drive a device driver before you even have the device soldered into a circuit board. Avoid the natural delays when testing on the target by using the tailored TDD Microcycle, employing off-target tests and dual-targeted code.
Learn how to make code testable and more flexible, better able to handle the inevitable changes demanded by the market. The tests drive development and then serve as an executable specification, keeping track of the critical details and assumptions baked into the code.
In Test-Driven Development for Embedded C, you'll find that TDD is a different way to program—unit tests are written in a tight feedback loop with the production code, producing testable code and greatly reducing wasteful debugging. TDD also influences design. When tests are considered part of design, you create modular and loosely coupled code, the hallmarks of a good design.
With Test-Driven Development for Embedded C, C developers (even embedded C developers) can finally write cleaner, testable code with TDD.
Available now in beta from pragprog.com/titles/jgade
Mastering Ruby/Rails and iPhone Studios
If you're an experienced Rails developer ready to take the next step to mastery or you're getting into iPhone app development, The Pragmatic Studio has two upcoming courses for you.
The Mastering Ruby and Rails course will be held in Chicago, IL on May 11-14, 2010. It's an advanced course taught by Dave Thomas and Chad Fowler. Details available at pragmaticstudio.com/mastering-ruby-rails
The iPhone Programming course will also be held in Chicago, IL on May 11-14, 2010. It's an introductory course taught by Daniel Steinberg and Matt Drance. Details available at pragmaticstudio.com/iphone
Early-bird registration pricing for both courses ends this Friday, April 2. Previous runs of these courses have sold out, so make sure to reserve your seat by registering soon!
Phew! A lot going on this week.
Enjoy,
Coming Soon:
iPad Programming: A Quick-Start Guide for Developers (see below)
Cocoa Programming [in print April]
Driving Technical Change: Why People On Your Team Don't Act On Good Ideas, and How To Convince Them They Should [in beta April]
Pragmatic Guide to Subversion [in beta April]
Recently Released:
Thanks for your continued support,
Dave & Andy
www.PragProg.com