The Passionate Programmer: New Pragmatic Life series, podcast
There's something new here at The Pragmatic Programmers—our new series of books, Pragmatic Life.
Because life doesn't stop at the office door.
This week we've got the first book in the Life series, The Passionate Programmer, plus an interview with author Chad Fowler on our podcast. We've also added a new feature to our website where you can register books you've bought elsewhere, plus more news of upcoming studios and an interview with Pragmatic author Venkat Subramaniam on Scala. Read on!
About The Pragmatic Life Series

We have the same goals for the Pragmatic Life series that we do for our Pragmatic Bookshelf series: to make developers' lives easier. But now we're looking at more than just your day job.
These books will make your life better. All different aspects of your life—not just work, not just hobbies, not just family topics. These books are created by authors who respect you and want to take you on a journey, to a place where they've been themselves, and can help you get there, too.
The first book in this new series is Chad Fowler's The Passionate Programmer. Next up will be Andy Lester's Land the Tech Job You Love.
The Passionate Programmer
The book that started it all for us, The Pragmatic Programmer, had the underlying theme that you need to take responsibility for your own professional development. You need to become more productive with the tools you use. You need to code smarter and automate those parts of your work day where it makes sense. You need to learn new languages, techniques, and methodologies. You need to read new books and expand your mind and your horizons.
So what about your career? You can't lay low hiding out in your cubicle hoping no one notices you when it's time for the next cutback. You need to proactively decide what you want your career to be and figure out how to get there—where the destination will shift along the way.
Chad Fowler's book, The Passionate Programmer helps you stand up and take charge. As he says in the introduction, this book is not advice on how "to maintain the level of mediocrity required not to get fired. It's about being awesome. It's about winning. You don't win a race by trying not to lose. And you don't win at life by trying to not suck."
The Passionate Programmer is actually the second edition of Chad's book My Job Went to India. You'll find an enhanced focus on creating a remarkable career, with fresh material including new tips and essays from highly successful members of our industry. The new title better communicates the contents and intent of this book. And besides, any time the first edition got reviewed or blogged, it wouldn't take long for the conversation to devolve into an argument over outsourcing—and that's not what this book is about at all. It's not about "them," it's about you.
We often hear from people who are buying a second or third copy of this book because they've lent their copy to a coworker who has kept it or lent it to someone else.
Don't let the stock market, the government, or the competition define your career. Take charge of your own career today. Right now.
Podcast: Build A Remarkable Career
In this week's podcast, Susannah Pfalzer interviews Chad Fowler about The Passionate Programmer and building a remarkable career. Chad talks about the reality of the two job markets, and how you have to focus on winning, not just on "not losing." He'll discuss steps to take in avoiding a career-by-coincidence, and how improving your career is really improving your life. Unlike other projects you've worked on, this time you are the product. See how to make the most of it.
Now available at pragprog.com/podcasts and on iTunes.
Register your books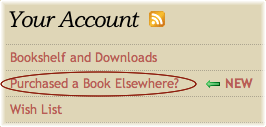 Visit Register Your Book and you can now register books you've purchased from a retail store here on your account at pragprog.com. Once registered, you may be eligible for discounts on purchasing the eBook version of that title, and receive news and updates about the book as available.
Just have the paper book nearby. You'll be asked a couple of questions, and then this title will be registered to your account.
Programming the iPhone
Interested in programming the iPhone? Take a look at our Roadmap to see where to start.
You might want to consider taking a Pragmatic Studio course. In this 4-day, hands-on training course you'll learn directly from two experienced iPhone developers and authors of iPhone SDK Development and Cocoa Programming: A Quick Start Guide for Developers.
Get a jump start and gain confidence to create your own iPhone or iPod Touch applications from start to finish.
Learn all the major features of the iPhone

SDK

so you can develop mobile applications like the pros.
Save time and frustration by focusing exclusively on iPhone development for four days with expert guidance.
You'll come away from this Studio ready to build your first iPhone application. You'll have gained first-hand experience using the iPhone SDK. You'll know what's possible and, more important, how to put everything together to turn your idea into an application you can sell in the App Store!
Details available at http://pragmaticstudio.com/iphone
Interview with Venkat Subramaniam on Scala
And finally, Programming Scala author Venkat Subramaniam is interviewed by Pat Eyler of the On Ruby blog, available at http://on-ruby.blogspot.com/2009/03/author-interview-venkat-subramaniam.html
Coming Soon:
Land the Tech Job You Love
— new in the Pragmatic Life series.
Programming Clojure in print
Domain Driven Design with Naked Objects
Debug It! Find, Repair, and Prevent Bugs in Your Code
Agile Coaching
…and more titles to keep you at the top of your game
Recently Released:
Thanks for your continued support,
Andy & Dave
www.PragProg.com