tmux and Technical Blogging now in print
February 29, 2012
Happy Leap Day! Ready to take a real leap and be more productive? We're very proud to offer Brian Hogan's tmux now available from pragprog.com/book/bhtmux. Not familiar with tmux yet? Then watch the video: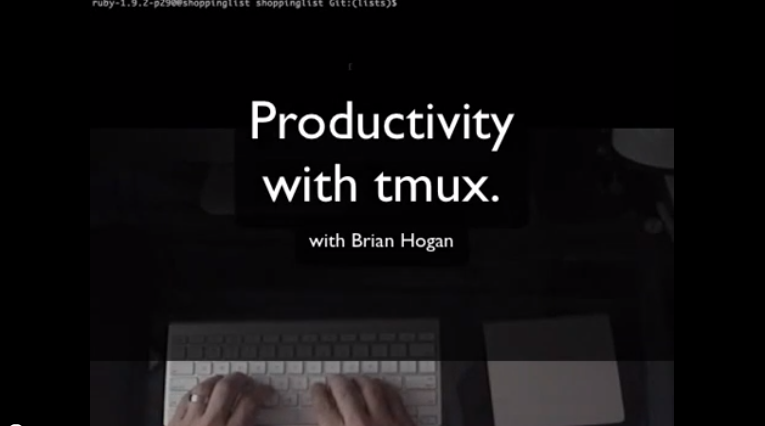 And in print and shipping this week, Antonio Cangiano's Technical Blogging: Turn Your Expertise into a Remarkable Online Presence at pragprog.com/book/actb. If you're at all serious about blogging, you need this book.
Enjoy!
tmux
It's pretty common for a modern developer to have a database console, web server, and a text editor running at the same time. Switching between these with the mouse takes up valuable time and can break your concentration. By using tmux, you can improve your productivity and regain your focus. This book will show you how.
You'll learn how to manage multiple terminal sessions within tmux using only your keyboard. You'll see how to manage and run programs side-by-side in panes, and you'll learn how to create the perfect development environment with custom scripts so that when you're ready to work, your programs are waiting for you. Then you'll discover how to manipulate text with tmux's copy and paste buffers. Once you've got the basics down, you'll discover how easy it is to use tmux to collaborate remotely with others. Finally, you'll explore more advanced usage as you manage multiple tmux sessions, add custom scripts into the tmux status line, and integrate tmux with your system.
Whether you're an application developer or a system administrator, you'll find many useful tricks and techniques to help you take control of your terminal.
Now available from pragprog.com/book/bhtmux.
Technical Blogging: Turn Your Expertise into a Remarkable Online Presence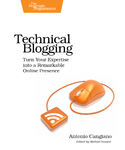 Technical Blogging is the first book to specifically teach programmers, technical people, and technically-oriented entrepreneurs how to become successful bloggers. There is no magic to successful blogging; with this book you'll learn the techniques to attract and keep a large audience of loyal, regular readers and leverage this popularity to achieve your goals.
Technical blogging expert Antonio Cangiano shares his extensive expertise with you, sparing no details and laying out a complete step by step road map to help you plan, create, market, monetize, and grow your own popular blog.
Antonio will guide you through all the choices you have to make in setting up a successful blog, teach you the key things you need to know to write blog posts that get read, and give you the tools to produce content regularly.
You'll learn how to promote your blog, understand traffic statistics, and build a community. And once you've built it, you'll learn how to benefit from it: advance your career, make money from your blog, use it to promote your products or company, and take advantage of your blog to the fullest. And when your blog takes off, Antonio will show you how to avoid the pitfalls of success.
Technical Blogging is the only guide you'll need to create and maintain a successful technical blog. Now in print and shipping from pragprog.com/book/actb.
Don't Get Left Out
Are your friends jealous that you get these spiffy email newsletters and they don't? Clue them in that all they need to do is create an account on pragprog.com (email address and password is all it takes) and select the checkbox to receive newsletters.
Are you following us on Twitter and/or Facebook? Here's where you can find us and keep up with the latest news and commentary:
Coming Soon:
Deploying with JRuby in beta
Build Awesome Command-Line Applications in Ruby in print
The dRuby Book: Distributed and Parallel Computing with Ruby in print
The Rails View in print
Rails Recipes: Rails 3 Edition in print
Recently Released:
Thanks for your continued support,
Dave & Andy

Books • eBooks • Screencasts • PragPub Magazine
PragProg.com