3D Game Programming for Kids
For Immediate Release: October 30, 2013
You know what's even better than playing games? Creating your own. Even if you're an absolute beginner, 3D Game Programming for Kids: Create Interactive Worlds with JavaScript (Pragmatic Bookshelf, $36 paper/$24 ebook) will teach you how to make your own online games with interactive examples.
You'll learn programming using nothing more than a browser, and see cool, 3D results as you type. You'll learn real-world programming skills in a real programming language: JavaScript, the language of the web. You'll be amazed at what you can do as you build interactive worlds and fun games. Appropriate for ages 10-99!
You'll jump right in and write games and simulations while learning programming fundamentals. You'll use the ICE Code Editor, which was created especially for this book to make it easy for you to get started with JavaScript programming. With the ICE Editor, you'll see the results of your work right away. Want a red donut? You can make hundreds of them, spinning around like crazy right next to the code you just typed.
You'll do hands-on coding in every chapter. You'll start by building simple animated shapes, then make your own player—who can do cartwheels! You'll learn how to build your own games from start to finish, including a monster eating fruit, a cave puzzle, and rafting on a river. You'll animate simple shapes to create a model of the solar system, and make your own website so that you can show off your games with your friends.
If you just want to make games, jump to the lessons focusing on projects.
To understand some of the theory better or if you need some help with functions, turn to the chapters that explain the programming concepts. We'll walk you carefully through all the math needed to bring games to life.
Best of all, you get to create awesome games and say, "I made this!"
Available for e-readers in epub, mobi, and PDF formats direct from the publisher and in paperback from fine bookstores worldwide.
Book Information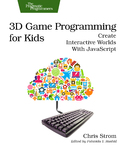 3D Game Programming for Kids
Create Interactive Worlds with JavaScript
ISBN: 9781937785444, 308 pages, $36.00US, $38.00CA, 7.5×9.25.
Pragmatic Bookshelf Titles are distributed to bookstores internationally by O'Reilly Media.
Additional Resources
Sample chapters, table of contents, and more information is available on the book's home page.
About Pragmatic Bookshelf
The Pragmatic Bookshelf features books written by developers for developers. The titles continue the well-known Pragmatic Programmer style, and continue to garner awards and rave reviews. As development gets more and more difficult, the Pragmatic Programmers will be there with more titles and products to help programmers stay on top of their game.
Contacts
Press and Editorial Queries Only:
Contact Andy Hunt or Dave Thomas
Pragmatic Bookshelf
800-699-7764 (+1 919-847-3884)
pragprog@praprog.com
<<
Modern C++ Programming with Test-Driven Development: Code Better, Sleep Better
|
Programming Erlang, 2nd Ed.
>>