Everyday Scripting in Ruby: For Teams, Testers, and You
1/24/2007
Are you a tester who spends more time manually creating complex test data than using it? A business analyst who seemingly went to college all those years so you can spend your days copying data from reports into spreadsheets? A programmer who can't finish each day's task without having to scan through version control system output, looking for the file you want? If so, you're wasting that computer on your desk.
In Everyday Scripting with Ruby For Teams, Testers, and You (Pragmatic Bookshelf, US$29.95, 0-9776166-1-4), noted tester and author Brian Marick shows readers the basics of the Ruby scripting language and how to create scripts in a steady, controlled way using test-driven design. He also sheds light on finding and using scripts writen by others, and how to use application frameworks in the Ruby environment to save time.
Brian says, "When you're just starting up with a new programming language, common mistakes can be frustrating. In this book, I show examples of the most common mistakes and typos, so that you can recognize the symptoms when you see them, and move on."
Everyday Scripting shows readers how to:
Learn to automate rote tasks
Gain a detailed understanding of working, finished scripts that you can apply directly to your job
Understand programming terminology and concepts
Exploit the unpaid labor of others
Communicate more efficiently and effectively with teammates
Reviewer Praise
A fantastic type-along-with-me introduction to a powerful scripting language that starts in the shallows and then moves into the depths turning the reader into an accomplished Ruby scripter, almost without them noticing it!
Erik Petersen, Emprove
Finally, a hands-on book that is filled with gems of wisdom for the testing community.
Gunjan Doshi VP, Community Connect, Inc.
Book Information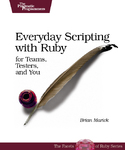 Everyday Scripting with Ruby
for Teams, Testers, and You
ISBN: 9780977616619, 320 pages, $29.95US, $38.95CA, 7.5×9.
Pragmatic Bookshelf Titles are distributed to bookstores internationally by O'Reilly Media.
Additional Resources
Sample chapters, table of contents, and more information is available on the book's home page.
About Pragmatic Bookshelf
The Pragmatic Bookshelf features books written by developers for developers. The titles continue the well-known Pragmatic Programmer style, and continue to garner awards and rave reviews. As development gets more and more difficult, the Pragmatic Programmers will be there with more titles and products to help programmers stay on top of their game.
Contacts
Press and Editorial Queries Only:
Contact Andy Hunt or Dave Thomas
Pragmatic Bookshelf
800-699-7764 (+1 919-847-3884)
pragprog@praprog.com
<<
Rails for Java Developers
|
Agile Web Development with Rails, 2nd Ed
>>