Build an Awesome PC, 2014 Edition
For Immediate Release: May 28, 2014
Custom-build your own dream PC, have fun doing it, and save yourself a lot of money in the process. Build an Awesome PC, 2014 Edition (Pragmatic Bookshelf, $17 paper, $11 ebook, printed in color) will give you the confidence to buy the best-of-class components and assemble them with clear, step-by-step instructions. You'll build your own PC capable of effortlessly running the most graphic and CPU-intensive games, graphics software, and programming compilers available today. And because it's a PC that you built yourself, you'll be able to keep it up to date with the latest hardware innovations.
Easy-to-follow instructions and plenty of photos show you how to assemble your computer from start to finish, carefully pointing out areas of interest and best practices for each major component used.
All PC parts from power supplies, graphics cards, RAM, CPUs, cooling fans, and cases are covered, along with a number of PC peripherals. The book will give you the confidence and freedom to build your PC just the way you want it. Each chapter focuses on a major PC function, shows you the best parts to buy, and illustrates how they fit within the build. Start with a well ventilated case and energy efficient power supply. Then install a state-of-the-art motherboard and blazingly fast CPU. Add ultra-fast memory along with solid state and traditional disk-based storage. Connect the power and data cables to this cutting-edge collection of hardware. Finish up with a multi-functional keyboard, mouse, and other high-end peripherals.
With each step, you'll discover how the computer technologies recommended in the book work together to deliver the ultimate PC hardware experience. And once you're finished building your new PC, you'll learn additional techniques that will future-proof it for years to come.
Available for e-readers in epub, mobi, and PDF formats direct from the publisher and in paperback from fine bookstores worldwide.
The Pragmatic Bookshelf is an imprint of The Pragmatic Programmers, LLC.
Book Information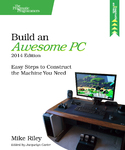 Build an Awesome PC, 2014 Edition
Easy Steps to Construct the Machine You Need
ISBN: 9781941222171, 119 pages, $17.00US, $18.00CA, 7.5×9.25.
Pragmatic Bookshelf Titles are distributed to bookstores internationally by O'Reilly Media.
Additional Resources
Sample chapters, table of contents, and more information is available on the book's home page.
About Pragmatic Bookshelf
The Pragmatic Bookshelf features books written by professional developers for professional developers. The titles continue the well-known Pragmatic Programmer style, and continue to garner awards and rave reviews. As development gets more and more difficult, the Pragmatic Programmers will be there with more titles and products to help programmers stay on top of their game.
Contacts
Press and Editorial Queries Only:
Contact Andy Hunt or Dave Thomas
Pragmatic Bookshelf
800-699-7764 (+1 919-847-3884)
pragprog@praprog.com
<<
Build iOS Games with Sprite Kit: Unleash Your Imagination in Two Dimensions
|
Learn to Program with Minecraft Plugins: Create Flying Creepers and Flaming Cows in Java
>>