Continuous Testing with Ruby, Rails, and JavaScript
7/6/2011
Feedback. We're always telling programmers that you need feedback, with a short feedback gap: the time it takes to get feedback on your decisions, your code, your designs. Well, what if you narrowed the feedback gap to near zero while coding? You'd have continuous testing, a powerful idea that lets you fix bugs while they're still small and fresh.
In Continuous Testing with Ruby, Rails, and JavaScript (Pragmatic Bookshelf, $33.00 print) you'll see how to use a combination of tests, tools, and techniques to immediately detect problems in code, before they spread.
It isn't magic, but a clever combination of tests, tools, and techniques that tells you right away when there's a problem. Not minutes, hours or days from now, but right now, when it's easiest to fix. Spend more of your time writing valuable software, and less time slogging through code line-by-line and second-guessing your decisions.
We'll show you how to set up and run automated tests that check your work continuously as you write code. You'll start with tools such as Autotest and Watchr and see how to use them effectively in a continuous environment.
You'll discover the fundamentals of creating and maintaining a test suite that's fast, informative, reliable, and exhaustive. You'll use powerful techniques such as inline assertions—a much better alternative to debugging or console printing. See how Continuous Testing can improve the quality of your existing tests and ensure that the new tests you write will do the job.
You'll start with examples in Ruby, Rails, and JavaScript, but you'll learn general techniques you can apply to a wide range of languages and frameworks.
By giving you instant feedback about the quality of your code and the quality of your tests, continuous testing creates a visceral feedback loop that you can actually feel as you work. Get this book and start doing Continuous Testing: with Ruby, Rails, and JavaScript today.
Available in epub, mobi, and PDF direct from the publisher and in paperback from fine bookstores worldwide.
What People are Saying
This has to be one of the books with the highest valuable-content-to-page-count ratio that I have ever read. This is one of those books that makes you want to "run to your computer and try it out"—you will love it! —Fred Daoud, Author, "Stripes…and Java Web Development is Fun Again" and "Getting Started with Apache Click"
I recommend this book to coworkers so they can incorporate the ideas into their daily work. —Noel Rappin, Senior Consultant, Obtiva, Inc.
Book Information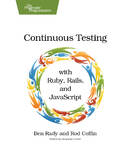 Continuous Testing
with Ruby, Rails, and JavaScript
ISBN: 9781934356708, 160 pages, $33.00US, $38.00CA, 7.5×9.
Pragmatic Bookshelf Titles are distributed to bookstores internationally by O'Reilly Media.
Additional Resources
Sample chapters, table of contents, and more information is available on the book's home page.
About Pragmatic Bookshelf
The Pragmatic Bookshelf features books written by developers for developers. The titles continue the well-known Pragmatic Programmer style, and continue to garner awards and rave reviews. As development gets more and more difficult, the Pragmatic Programmers will be there with more titles and products to help programmers stay on top of their game.
Contacts
Press and Editorial Queries Only:
Contact Andy Hunt or Dave Thomas
Pragmatic Bookshelf
800-699-7764 (+1 919-847-3884)
pragprog@praprog.com
<<
iOS Recipes: Tips and Tricks for Awesome iPhone and iPad Apps
|
Designed for Use: Create Usable Interfaces for Applications and the Web
>>