Core Data: Data Storage and Management for iOS, OS X, and iCloud, 2nd Ed
For Immediate Release: January 28, 2013
Core Data is Apple's recommended way to persist data: it's easy to use, built-in, and integrated with iCloud. It's intricate, powerful, and necessary—and Core Data: Data Storage and Management for iOS, OS X, and iCloud, 2nd Ed (Pragmatic Bookshelf, $33.00) is your guide to harnessing its power for iOS 6 and OS X Mountain Lion and beyond.
Learn fundamental Core Data principles such as thread and memory management, discover how to use Core Data in your iPhone, iPad, and OS X projects by using NSPredicate to filter data, and see how to add iCloud to your applications.
Cocoa expert Marcus Zarra walks you through developing a full-featured application based around the Core Data APIs. You'll build up a single application throughout the book, learning key Core Data principles such as NSPredicate, thread management, and memory management.
You'll start with the basics of Core Data and learn how to use it to develop your application. Then you'll delve deep into the details of the API. You'll explore not only how to get Core Data integrated into your application properly, but even better, how to work with the API's flexibility to create convenience methods to improve your application's maintainability.
Learn how to reduce your number of mapping models, integrate your Core Data app with Spotlight and Quick Look, connect your application with sync services, and find out how to use Core Data in a multithreaded environment. By the end of the book, you'll have built a full-featured application, gained a complete understanding of Core Data, and learned how to integrate your application into the iPhone/iPad platform.
This second edition updates all examples for OS X Mountain Lion and iOS 6, gets you up to speed on changes in multithreading, and provides new chapters covering iCloud and NSFetchedResultsController.
Available for e-readers in epub, mobi, and PDF formats direct from the publisher and in paperback from fine bookstores worldwide.
What Readers are Saying
This book has information for beginners and experts alike, particularly around new features such as iCloud syncing. It's a must-have if you're going to be doing anything with Core Data.
—Patrick Burleson, Owner BitBQ, LLC
If you're using Core Data and haven't read this book, you're doing yourself and your customers a disservice. Marcus Zarra explains the fundamental components of the Core Data framework and shows how the framework is used in real-world programming. This book is a must-read for anyone new to Core Data, but there's plenty of great information even for seasoned veterans.
—Jeff LaMarche, Author and Co-Founder MartianCraft, LLC
I learned Core Data reading the first edition of this book. It has long been my go-to reference, but a lot has changed since the first edition hit the shelves. The coverage of iOS and iCloud is a welcome addition, and the updated chapters on versioning and threading are a must-read. Those getting started with Core Data and those already using it owe it to themselves to read this fantastic book.
—Kirby Turner, Chief Code Monkey White Peak Software, Inc.
Book Information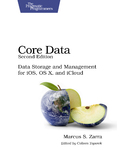 Core Data (2nd edition)
Data Storage and Management for iOS, OS X, and iCloud
ISBN: 9781937785086, 256 pages, $33.00US, $35.00CA, 7.5×9.
Pragmatic Bookshelf Titles are distributed to bookstores internationally by O'Reilly Media.
Additional Resources
Sample chapters, table of contents, and more information is available on the book's home page.
About Pragmatic Bookshelf
The Pragmatic Bookshelf features books written by developers for developers. The titles continue the well-known Pragmatic Programmer style, and continue to garner awards and rave reviews. As development gets more and more difficult, the Pragmatic Programmers will be there with more titles and products to help programmers stay on top of their game.
Contacts
Press and Editorial Queries Only:
Contact Andy Hunt or Dave Thomas
Pragmatic Bookshelf
800-699-7764 (+1 919-847-3884)
pragprog@praprog.com
<<
Outsource It! A No-Holds-Barred Look at the Good, the Bad, and the Ugly of Offshoring Tech Projects
|
The Definitive

ANTLR 4

Reference
>>