Create Mobile Games with Corona: Build with Lua on iOS and Android
For Immediate Release: November, 2013
With Create Mobile Games with Corona: Build with Lua on iOS and Android (Pragmatic Bookshelf, $36 paper, $24 ebook), you can develop cross-platform mobile games with Corona using the Lua programming language! Corona is experiencing explosive growth among mobile game developers, and this book gets you up to speed on how to use this versatile platform. You'll use the Corona SDK to simplify game programming and take a fun, no-nonsense approach to write and add must-have gameplay features. You'll find out how to create all the gaming necessities: menus, sprites, movement, perspective and sound effects, levels, loading and saving, and game physics. Along the way, you'll learn about Corona's API functions and build three common kinds of mobile games from scratch that can run on the iPhone, iPad, Kindle Fire, Nook Color, and all other Android smartphones and tablets.
Get a crash course in cross-platform mobile game programming using the Corona SDK. Corona, one of the easiest to use mobile gaming platforms, makes this often-difficult process both quick and easy to master.
If you're familiar with programming but new to game development, you'll feel comfortable as we begin with fundamentals before building examples of the most common kinds of games on the market today. You'll develop arcade, side scroller, and tower defense games from start to finish, and Corona will automatically turn them into apps that can run on both iOS and Android devices. These finished apps can be used as ready-to-go frameworks for your own future projects. You'll learn how to write clean, easily maintainable, and easily expandable game code. You'll also find out how to make money with games: enabling in-app purchases and in-game ads as well as how to get apps into the iTunes App Store, Google Play, and the Amazon Android Marketplace.
This book focuses on getting quick and effective results. Every page teaches by example and explanation, not with abstract lists of functions and variables. By the time you're done, you'll have learned most of what there is to know about mobile game programming and about the Corona SDK.
Available for e-readers in epub, mobi, and PDF formats direct from the publisher and in paperback from fine bookstores worldwide.
Book Information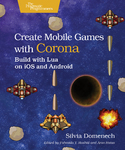 Create Mobile Games with Corona
Build with Lua on iOS and Android
ISBN: 9781937785574, 268 pages, $36.00US, $38.00CA, 7.5×9.
Pragmatic Bookshelf Titles are distributed to bookstores internationally by O'Reilly Media.
Additional Resources
Sample chapters, table of contents, and more information is available on the book's home page.
About Pragmatic Bookshelf
The Pragmatic Bookshelf features books written by developers for developers. The titles continue the well-known Pragmatic Programmer style, and continue to garner awards and rave reviews. As development gets more and more difficult, the Pragmatic Programmers will be there with more titles and products to help programmers stay on top of their game.
Contacts
Press and Editorial Queries Only:
Contact Andy Hunt or Dave Thomas
Pragmatic Bookshelf
800-699-7764 (+1 919-847-3884)
pragprog@praprog.com
<<
Crafting Rails 4 Applications: Expert Practices for Everyday Rails Development
|
Node.js the Right Way: Practical, Server-Side JavaScript That Scales
>>