Cutting An Agile Groove Video
For Immediate Release: January 4, 2011
You've struggled to bring agile practices to projects but have been frustrated by buzzword-heavy books and presentations that seem to have been written by academics. What you want is straight talk giving practical advice on the real problems that you face in leading or working in agile teams.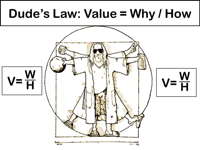 Cutting an Agile Groove (Pragmatic Bookshelf, $14/each or $50/set) is a series of videos by respected agile consultant David Hussman that shows you how to design an agile, lean process and deliver real value for your product or project—in plain English, with real-world examples.
You'll get concrete tools for people on agile teams, people trying to introduce lasting change, and people who are completely new to agile methods. Whether you call yourself a coach, Scrum Master, tech lead, manager, director, or product owner, the series will give you essential tools for coaching, product design, and planning.
This video series was recorded in front of a live audience and is divided into three sections: Planning to Coach, Developing Customers and Products, and Discovery and Delivery, each of which contains multiple episodes.
Cutting an Agile Groove.
Questioning and Learning
Selecting and Suggesting
Planning to Coach
Collaborative Chartering
Pragmatic Personas
In Story Mapping
Planning to Discover
Planning to Deliver
David Hussman has helped scores of coaches and Scrum Masters successfully guide teams with agile methods, and now you can benefit from his experience at your own pace. If you, or someone in your company, is thinking about using Agile for a project, the Cutting an Agile Groove series contains a wealth of techniques and tools for getting the project going in the right direction.
Title Information
Cutting an Agile Groove
by David Hussman
9 Episodes $14.00US/each, $50.04/set, .mp4, .mov, .ogg.

Pragmatic Bookshelf Titles are distributed to bookstores internationally by O'Reilly Media.
Additional Resources
Sample video, topics covered, and more information is available on this title's home page at pragprog.com/screencasts/v-dhcag.
About Pragmatic Bookshelf
The Pragmatic Bookshelf features books written by developers for developers. The titles continue the well-known Pragmatic Programmer style, and continue to garner awards and rave reviews. As development gets more and more difficult, the Pragmatic Programmers will be there with more titles and products to help programmers stay on top of their game.
Contacts
Press and Editorial Queries Only:
Contact Andy Hunt or Dave Thomas
Pragmatic Bookshelf
800-699-7764 (+1 919-847-3884)
pragprog@praprog.com

<< Web Development Recipes | Lean from the Trenches: Managing Large-Scale Projects with Kanban >>