Design Accessible Web Sites: 36 Keys to Creating Content for All Audiences and Platforms
11/7/2007
Raleigh/Dallas.
It's not a one-browser web anymore. You need to reach audiences that use cell phones, PDAs, game consoles, or other "alternative" browsers, as well as users with disabilities. Legal requirements for assistive technologies as well as a wide array of new browsing experiences means you need to concentrate on semantics, alternate access paths, and progressive enhancement.
In Design Accessible Web Sites, author Jeremy Sydik shows how to create well-styled semantic markup that lets you provide the best possible results for all of your users. This book will help you provide images, video, Flash and PDF in an accessible way that looks great to your sighted users, but is still accessible to all users.
Jeremy shows you basic principles and techniques for developing accessible HTML, audio, video, and multimedia content. In addition, you will understand how to apply the principles you learn in this book to new technologies when they emerge.
With this book, you'll:
Use best practices of accessibility to develop accessible web content
Build testing into projects to improve results and reduce costs.
Create high quality alternative representations for your audience
Add accessibility features to external media like

PDF

and Flash.
Negotiate the terrain of accessibility standards.
Apply principles of accessibility to new technologies as they emerge.
Give your audience the power to interact with your content on their own terms. It's the right thing to do, and with a $100 billion a year market for accessible content, new laws and new technologies, you can't afford to ignore accessibility.
Book Information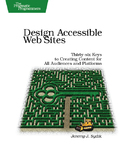 Design Accessible Web Sites
36 Keys to Creating Content for All Audiences and Platforms
ISBN: 9781934356029, 336 pages, $34.95US, $45.95CA, 7.5×9.
Pragmatic Bookshelf Titles are distributed to bookstores internationally by O'Reilly Media.
Additional Resources
Sample chapters, table of contents, and more information is available on the book's home page.
About Pragmatic Bookshelf
The Pragmatic Bookshelf features books written by professional developers for professional developers. The titles continue the well-known Pragmatic Programmer style, and continue to garner awards and rave reviews. As development gets more and more difficult, the Pragmatic Programmers will be there with more titles and products to help programmers stay on top of their game.
Contacts
Press and Editorial Queries Only:
Contact Andy Hunt or Dave Thomas
Pragmatic Bookshelf
800-699-7764 (+1 919-847-3884)
pragprog@praprog.com
<<
Prototype and script.aculo.us: You never knew JavaScript could do this!
|
GIS

for Web Developers
>>