Desktop GIS: Mapping the Planet with Open Source Tools
10/22/2008
Raleigh/Dallas.
From Google Maps to iPhone apps, geographic data and visualization is quickly becoming a standard part of life.
Desktop GIS: Mapping the Planet with Open Source Tools (Pragmatic Bookshelf, $34.95) shows you how to assemble and use an Open Source GIS toolkit. You'll find strategies for choosing a platform, selecting the right tools, integration, managing change, and getting support. You'll get a good introduction to using the many tools available so you can visualize, digitize, and analyze your own mapping data.
The survey of open source GIS desktop applications provides you with a quick introduction to the many packages available. You'll see examples of both GUI (Graphical User Interface) and command line interfaces to give you a feel for what is available.
This book will give you an understanding of the Open Source GIS landscape, along with a detailed look at the major desktop applications, including GRASS, Quantum GIS, uDig, spatial databases, GMT, and other command line tools. Finally, the book exposes you to scripting in the OSGIS world, using Python, shell, and other languages to visualize, digitize, and analyze your data.
But why a toolkit? Why not just use one of these applications to manage your GIS data?
Author Gary Sherman explains. "Not everyone will need or want the same tools in their toolkit. One of the things we hope to accomplish on our journey together is to identify which tools you need and then learn how to assemble them into a system that works for you. Ideally, you should come through the experience with some nicely integrated applications and utilities to serve all your mapping needs on the desktop."
It's a big world out there, but you can start mapping the planet—or your favorite part of it—today.
Book Information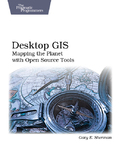 Desktop GIS
Mapping the Planet with Open Source Tools
ISBN: 9781934356067, 368 pages, $34.95US, $34.95CA, 7.5×9.
Pragmatic Bookshelf Titles are distributed to bookstores internationally by O'Reilly Media.
Additional Resources
Sample chapters, table of contents, and more information is available on the book's home page.
About Pragmatic Bookshelf
The Pragmatic Bookshelf features books written by developers for developers. The titles continue the well-known Pragmatic Programmer style, and continue to garner awards and rave reviews. As development gets more and more difficult, the Pragmatic Programmers will be there with more titles and products to help programmers stay on top of their game.
Contacts
Press and Editorial Queries Only:
Contact Andy Hunt or Dave Thomas
Pragmatic Bookshelf
800-699-7764 (+1 919-847-3884)
pragprog@praprog.com
<<
Core Animation for Mac

OS X

and the iPhone
|
Developing Facebook Platform Applications with Rails
>>