Developing Android on Android: Automate Your Device with Scripts and Tasks
For Immediate Release: November, 2013
Take advantage of the open, tinker-friendly Android platform and make your device work the way you want it to. With Developing Android on Android: Automate Your Device with Scripts and Tasks (Pragmatic Bookshelf, $36 paper, $24 ebook), you can quickly create Android tasks, scripts, and programs entirely on your Android device—no PC required.
Learn how to build your own innovative Android programs and workflows with tools you can run on Android itself, and tailor the Android default user interface to match your mobile lifestyle needs. Apply your favorite scripting language to rapidly develop programs that speak the time and battery level, alert you to important events or locations, read your new email to you, and much more.
Take charge of your Android phone or tablet by creating your own programs and scripts to make your device work for you. Developing Android on Android will teach you how to use the latest cutting-edge technologies to tailor your Android experience to your mobile lifestyle.
Write scripts that listen to your voice and post spoken tweets on Twitter. Track your phone's status and have it report its location every ten minutes via an instant message. Query and listen to weather forecasts with the click of a headset button. Have system notifications and new SMS messages automatically read to you. Design your own application launcher with a look and behavior that can be dynamically modified depending on the scripts and applications you execute.
With step-by-step instructions throughout, you'll master how to develop your own custom applications. And because you'll be using programming tools on your Android, you can change and improve your programs at any time. You'll build new Android programs and task-driven on-board workflows faster than any traditional Android development environment could hope to match!
Available for e-readers in epub, mobi, and PDF formats direct from the publisher and in paperback from fine bookstores worldwide.
Book Information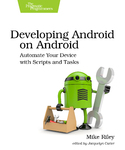 Developing Android on Android
Automate Your Device with Scripts and Tasks
ISBN: 9781937785543, 232 pages, $36.00US, $38.00CA, 7.5×9.
Pragmatic Bookshelf Titles are distributed to bookstores internationally by O'Reilly Media.
Additional Resources
Sample chapters, table of contents, and more information is available on the book's home page.
About Pragmatic Bookshelf
The Pragmatic Bookshelf features books written by professional developers for professional developers. The titles continue the well-known Pragmatic Programmer style, and continue to garner awards and rave reviews. As development gets more and more difficult, the Pragmatic Programmers will be there with more titles and products to help programmers stay on top of their game.
Contacts
Press and Editorial Queries Only:
Contact Andy Hunt or Dave Thomas
Pragmatic Bookshelf
800-699-7764 (+1 919-847-3884)
pragprog@praprog.com
<<
Node.js the Right Way: Practical, Server-Side JavaScript That Scales
|
The Dream Team Nightmare: Boost Team Productivity Using Agile Techniques
>>