Rails for Java Developers
2/13/2007
Many Java developers are now looking at Ruby, and the Ruby on Rails web framework. Fortunately, Java developers already have deep experience with the design issues that inspired Rails, and can use this background to quickly learn Ruby and Rails.
In Rails for Java Developers (Pragmatic Bookshelf, US$34.95, 0-9776166-9-X), experienced developers Stuart Halloway and Justin Gehtland show how to translate your hard-earned Java knowledge and skills into the world of Ruby and Rails.
Stuart tells us, "Ruby looks a lot different from Java, and some of those differences support powerful abstractions that Java lacks." That's not a problem; Stuart and Justin will be your guides to this new, but not strange, territory.
In each chapter, they build a series of parallel examples to demonstrate some facet of web development. Because the Rails examples sit next to Java examples, you can start this book in the middle, or anywhere else you want. You can use the Java version of the code, plus the analysis, to quickly grok what the Rails version is doing. They have carefully cross-referenced and indexed the book to facilitate jumping around as you need to.
Thanks to your background in Java, this one short book can cover a half-dozen books' worth of ideas:
Programming Ruby
Building

MVC

(Model/View/Controller) Applications
Unit and Functional Testing
Security
Project Automation
Configuration
Web Services
Rails for Java Developers is the fast track for Java programmers who are learning or evaluating Ruby on Rails.
Book Information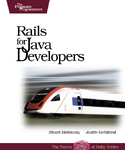 Rails for Java Developers
ISBN: 9780977616695, 336 pages, $34.95US, $45.95CA, 7.5×9.
Pragmatic Bookshelf Titles are distributed to bookstores internationally by O'Reilly Media.
Additional Resources
Sample chapters, table of contents, and more information is available on the book's home page.
About Pragmatic Bookshelf
The Pragmatic Bookshelf features books written by developers for developers. The titles continue the well-known Pragmatic Programmer style, and continue to garner awards and rave reviews. As development gets more and more difficult, the Pragmatic Programmers will be there with more titles and products to help programmers stay on top of their game.
Contacts
Press and Editorial Queries Only:
Contact Andy Hunt or Dave Thomas
Pragmatic Bookshelf
800-699-7764 (+1 919-847-3884)
pragprog@praprog.com
<<
TextMate: Power Editing for the Mac
|
Everyday Scripting in Ruby: For Teams, Testers, and You
>>