10/15/2007
It's never been easier to answer the question "Where am I?". Now developers can choose from a variety of sources to add location-aware features to their applications. Geo-aware functions are fast becoming a must-have feature for Web 2.0.
In GIS for Web Developers, author Scott Davis introduces Geographic Information Systems (GIS) in simple terms and demonstrates hands-on uses. With this book, you'll explore popular websites like maps.google.com, see the technologies they use, and learn how to create your own.
Written with the usual Pragmatic Bookshelf humor and real-world experience, GIS for Web Developers make the journey an easy one. You can now geographically-enable your own applications using freely available, open source tools and data. But until now, finding the right data on the web has been a problem.
Scott Davis says, "There is a vast amount of free basemap data on the Web. The problem is that it isn't gathered together in one place, and the popular search engines don't have targeted searches for geographic data like they do for web pages, images, music files, and so forth. Finding the right basemap data for your application is often more of a challenge than using it once you have it."
But with this book, you'll learn how to find the vast amounts of free geographic data that's out there and how to bring it all together. You'll see how to convert it among several popular formats—including plain text, ESRI Shapefiles, and Geography Markup Language (GML).
Scott leads you step-by-step through the whole process. You can get started with geographic programming no matter what your favorite development language. You'll find plenty of working code examples using some of the many GIS-oriented applications and APIs. Finally, you'll see an in-depth example using the Java programming language.
With this book, you'll:
Find free sources of

GIS

data on the web
Browse

GIS

data using open source desktop viewers
Manipulate

GIS

data programmatically
Store and retrieve data using geographically-enabled databases
Explore free web toolkits like Google Maps
Publish and consume web services using Open Geospatial Consortium (OGC) interfaces
Book Information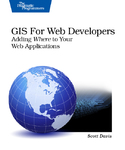 GIS for Web Developers
Adding Where to Your Web Applications
ISBN: 9780974514093, 275 pages, $34.95US, $42.95CA, 7.5×9.
Pragmatic Bookshelf Titles are distributed to bookstores internationally by O'Reilly Media.
Additional Resources
Sample chapters, table of contents, and more information is available on the book's home page.
About Pragmatic Bookshelf
The Pragmatic Bookshelf features books written by developers for developers. The titles continue the well-known Pragmatic Programmer style, and continue to garner awards and rave reviews. As development gets more and more difficult, the Pragmatic Programmers will be there with more titles and products to help programmers stay on top of their game.
Contacts
Press and Editorial Queries Only:
Contact Andy Hunt or Dave Thomas
Pragmatic Bookshelf
800-699-7764 (+1 919-847-3884)
pragprog@praprog.com
<<
Design Accessible Web Sites: 36 Keys to Creating Content for All Audiences and Platforms
|
Pragmatic Unit Testing in C#, 2nd Ed.
>>