Grails: A Quick-Start Guide
11/3/2009
Java web development is notoriously tedious, but help is on the way: Grails. Using the principle of convention-over-configuration and the dynamic Groovy programming language, Grails takes the pain out of Java web development and brings back the fun.
In Grails: A Quick-Start Guide (Pragmatic Bookshelf, $32.95), you'll see how to use Grails by iteratively building a unique, working application. By the time you're done, you'll have built and deployed a real, functioning website.
Along the way, you'll learn about domain classes, controllers, and GSP views. You'll see how Grails allows you to use powerful frameworks like Spring and Hibernate without even knowing it.
Author Dave Klein explains how he first got started with Grails: "In the past, I had worked with so-called rapid application development tools on the desktop and had seen the trade-off that you had to make to get these 'applications in minutes.' As soon as you needed to do more than the tool was designed for, you were stuck. I didn't want to go down that road again. Still, Grails did look like it would be a good choice for small applications. So, I gave it a try.
"After using Grails to build a website for our local Java user group, I was hooked. By day, I was struggling with JSF and Enterprise JavaBeans (EJB); by night, I was having a blast building a website with Grails. I began to look for ways to take advantage of the brilliant simplicity of Grails in my day job. After all, I worked in a Java shop, and Grails is a fully compliant Java Enterprise Edition framework."
Now you can take advantage of the brilliant simplicity of Grails as well. Join Dave Klein as he leads you through this hands-on, pragmatic approach, and explores topics such as AJAX in Grails, custom tags, and plugins. You'll dig into Grails' powerful view technology, Groovy Server Pages, and see how you can easily create custom user interfaces faster than you would have thought possible.
It's time to bring the fun back into web programming. Get started with Grails today.
Book Information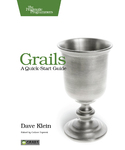 Grails
A Quick-Start Guide
ISBN: 9781934356463, 200 pages, $32.95US, $41.95CA, 7.5×9.
Pragmatic Bookshelf Titles are distributed to bookstores internationally by O'Reilly Media.
Additional Resources
Sample chapters, table of contents, and more information is available on the book's home page.
About Pragmatic Bookshelf
The Pragmatic Bookshelf features books written by developers for developers. The titles continue the well-known Pragmatic Programmer style, and continue to garner awards and rave reviews. As development gets more and more difficult, the Pragmatic Programmers will be there with more titles and products to help programmers stay on top of their game.
Contacts
Press and Editorial Queries Only:
Contact Andy Hunt or Dave Thomas
Pragmatic Bookshelf
800-699-7764 (+1 919-847-3884)
pragprog@praprog.com
<<
Hello, Android, 2nd Edition for 1.5/1.6
|
Core Data: Apple's

API

for Persisting Data on Mac

OS X
>>