Hello, Android 3rd Edition
7/17/2010
Google's Android lets you write Java programs that run on any compatible cell phone in the world. The power of Open Source meets the ubiquity of mobile computing—it's a combination you can't afford to ignore.
Author Ed Burnette says, "Because of its open source heritage and backing from dozens of different vendors, I believe Android will dominate the market for native phone apps in the years to come. There's already a tremendous demand for Android programmers, and it's just going to keep growing." But as with most new technologies, changes to Android come fast and furious.
Hello, Android, 3rd Edition (Pragmatic Bookshelf, $34.95) will get you started in the right direction. This new third edition covers all Android versions from Android 1.5 to the latest Android 2. Every page and example was reviewed and updated for compatibility with the latest versions. Freshly added material covers installing applications to the SD card, supporting multi-touch, and creating live wallpaper. You'll also find plenty of real-world advice on how to support all the Android versions in use today—everything from Donut (Android 1.5) to FroYo (Android 2.2) and beyond.
Within minutes, Hello, Android will get you started creating your first working application: Android's version of "Hello, World." From there, you'll build up a more substantial example: an Android Sudoku game. By gradually adding features to the game, you'll learn the basics of Android programming. You'll also see how to build in audio and video support, add graphics using 2D and 3D OpenGL, network with web pages and web services, and store data with SQLite. You'll also learn how to publish your applications to the Android Market.
Ed continues, "Android and iPhone are the top mobile platforms right now. They have made mobile web browsing, games, and other apps accessible to everyone. It only takes one or two developers to produce some really amazing and valuable content, and get that in front of users who may be willing to pay for it. The iPhone had a head start, but Android is on the verge of surpassing it in terms of both market share and mind share. So now is a great time to get started."
If you'd rather be coding than reading about coding, this book is for you.
(Video Extra: watch author Ed Burnette talk about Hello, Android at pragprog.com/titles/eband3, Amazon, and on YouTube).
About the Author
Ed Burnette is a software industry veteran with more than 25 years of experience as a programmer, author, and speaker. Ed is a founding member and senior researcher at the SAS Advanced Computing Lab. Ed has authored numerous technical articles and books, including Google Web Toolkit: Taking the Pain out of Ajax and Eclipse IDE Pocket Guide. He writes the Dev Connection blog for ZDNet, and is the creator of Planet Android (http://www.planetandroid.com).
What People Are Saying
"Out of all the books on Android, Hello, Android has the best flow and coverage for developers new to this platform. You'll be writing Android apps in no time!"—Marko Gargenta
"Ed shows his vast experience on the subject and even covers hard-to-find topics such as multi-touch and OpenGL. This is a must-read for everyone starting on the fascinating journey of Android development."—Diego Torres Milano
Book Information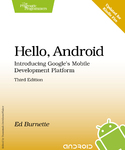 Hello, Android (3rd edition)
Introducing Google's Mobile Development Platform
ISBN: 9781934356562, 282 pages, $34.95US, $43.95CA, 7.5×9.
Pragmatic Bookshelf Titles are distributed to bookstores internationally by O'Reilly Media.
Additional Resources
Sample chapters, table of contents, and more information is available on the book's home page.
About Pragmatic Bookshelf
The Pragmatic Bookshelf features books written by developers for developers. The titles continue the well-known Pragmatic Programmer style, and continue to garner awards and rave reviews. As development gets more and more difficult, the Pragmatic Programmers will be there with more titles and products to help programmers stay on top of their game.
Contacts
Press and Editorial Queries Only:
Contact Andy Hunt or Dave Thomas
Pragmatic Bookshelf
800-699-7764 (+1 919-847-3884)
pragprog@praprog.com
<<
The Agile Samurai: How Agile Masters Deliver Great Software
|
Test-Drive

ASP

.NET

MVC
>>