HTML5 and CSS3: Level Up with Today's Web Technologies
For Immediate Release: November, 2013
HTML5 and CSS3 are more than just buzzwords—they're the foundation for today's web applications. HTML5 and CSS3: Level Up with Today's Web Technologies (Pragmatic Bookshelf, $38 paper, $25 ebook) gets you up to speed on the HTML5 elements and CSS3 features you can use right now in your current projects, with backwards compatible solutions that ensure that you don't leave users of older browsers behind. This new edition covers even more new features, including CSS animations, IndexedDB, and client-side validations.
HTML5 and CSS3 power today's web applications, with semantic markup, better forms, native multimedia, animations, and powerful APIs. You'll get hands-on with all the new features with practical example projects, and find what you need quickly with this book's modular structure. "Falling Back" sections show you how to create solutions for older browsers, and "The Future" sections at the end of each chapter get you excited about the possibilities when features mature.
This revised second edition walks you through new features such as IndexedDB, CSS Animations, SVG, and more, along with updated fallback solutions. You'll use HTML5's new markup to create better structure for your content and better interfaces for your forms. You'll work with new form controls and validations, and build interfaces that are accessible to assistive technology and mobile devices. You'll draw with the Canvas and SVG, do simple animations with pure CSS, work with advanced CSS selectors, and make audio and video play natively.
You'll bring your web apps to the next level as you use Web Storage and IndexedDB to save data on the client and make applications available offline. And you'll discover how to use web sockets, geolocation, cross-document messaging, and the History API to create even more interactive applications.
Today, you have the flexibility that used to be only available through large JavaScript libraries or proprietary plugins. Get ready for today's web.
Click Watch Me for a free screencast on Web Workers.
Available for e-readers in epub, mobi, and PDF formats direct from the publisher and in paperback from fine bookstores worldwide.
Book Information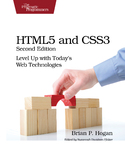 HTML5 and CSS3 (2nd edition)
Level Up with Today's Web Technologies
ISBN: 9781937785598, 314 pages, $38.00US, $40.00CA, 7.5×9.25.
Pragmatic Bookshelf Titles are distributed to bookstores internationally by O'Reilly Media.
Additional Resources
Sample chapters, table of contents, and more information is available on the book's home page.
About Pragmatic Bookshelf
The Pragmatic Bookshelf features books written by developers for developers. The titles continue the well-known Pragmatic Programmer style, and continue to garner awards and rave reviews. As development gets more and more difficult, the Pragmatic Programmers will be there with more titles and products to help programmers stay on top of their game.
Contacts
Press and Editorial Queries Only:
Contact Andy Hunt or Dave Thomas
Pragmatic Bookshelf
800-699-7764 (+1 919-847-3884)
pragprog@praprog.com
<<
Functional Programming Patterns in Scala and Clojure: Write Lean Programs for the

JVM
|
Modern C++ Programming with Test-Driven Development: Code Better, Sleep Better
>>