iCloud for Developers: Automatically Sync Your iOS Data, Everywhere, All the Time
For Immediate Release: July 24, 2013
Get up-to-date fast on the techniques you need get your iOS applications iCloud-ready with iCloud for Developers: Automatically Sync Your iOS Data, Everywhere, All the Time (Pragmatic Bookshelf, $17.00 Kindle only).
With Apple's iCloud servers now available to developers, there's every reason to make synchronization a core feature of your product. You'll learn how to iCloud-enable the data formats you're most likely to use in an iOS application: key-value data, document-based data, and relational data. Using a simple grocery list application as an example, you'll find out how to configure any application to make the most of iCloud's capabilities.
Your app's users want their application data to be in sync as they switch from one device to another. Guided by iOS expert Cesare Rocchi, you'll start by learning how to configure an app and its resources for iCloud. Then, after a quick introduction to iCloud-supported data types, you'll work on using the simplest: key-value data.
Next, you'll find out how to get your document-based data (including media files), and even relational data working with iCloud. As you learn each new technique, you'll use it to synchronize yet another module of the book's sample app, Grocery, a simple shopping list that can be shared between two or more devices. You'll learn how to handle the kinds of conflicts likely to occur when you build apps that keep themselves in sync across phones and tablets, as well as how to deal with the notifications used by iCloud to broadcast changes as they occur.
As devices proliferate, synchronization is more important than ever. When you finish this book, you'll know how to make it a part of your own applications.
Available for e-readers in epub, mobi, and PDF formats direct from the publisher and in Kindle edition from Amazon.com
Book Information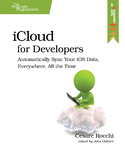 iCloud for Developers
Automatically Sync Your iOS Data, Everywhere, All the Time
ISBN: 9781937785604, 136 pages, $17.00US, $17.00CA, .
Pragmatic Bookshelf Titles are distributed to bookstores internationally by O'Reilly Media.
Additional Resources
Sample chapters, table of contents, and more information is available on the book's home page.
About Pragmatic Bookshelf
The Pragmatic Bookshelf features books written by developers for developers. The titles continue the well-known Pragmatic Programmer style, and continue to garner awards and rave reviews. As development gets more and more difficult, the Pragmatic Programmers will be there with more titles and products to help programmers stay on top of their game.
Contacts
Press and Editorial Queries Only:
Contact Andy Hunt or Dave Thomas
Pragmatic Bookshelf
800-699-7764 (+1 919-847-3884)
pragprog@praprog.com
<<
Programming Groovy 2: Dynamic Productivity for the Java Developer
|
Rapid Android Development: Build Rich, Sensor-Based Applications with Processing
>>