For Immediate Release: November 14, 2012
Ready to write your killer app for iOS 6? Now you can learn how, with iOS SDK Development (Pragmatic Bookshelf $35).
Since the iPhone's launch in 2008, the iOS platform has added two new device families, thousands of new APIs, new tools and programming practices, and hundreds of thousands of new apps. Yours can be one of them. This book guides you through the state of the art of iOS development, including the radically overhauled Xcode 4 toolchain, the iOS 6 SDK, and the new iPhone 5. You'll accelerate your development with new tools like Storyboards, practice on new APIs like the Twitter framework, and learn the latest features of the Objective-C programming language.
iOS SDK Development is the second edition of the bestselling iPhone SDK Development, completely rewritten from the ground up to cover iOS 6's new features. You'll get hands-on experience working with Objective-C and Xcode 4 as you work through this tutorial-style book with two experienced iOS developers by your side. Along the way, you'll learn the fundamentals of maintainable, performant iOS programming, including:
Making apps that are internationalizable, testable, multi-core-capable, and that use less memory.
Understanding the underlying concepts of touch event handling, drawing and animation, multi-core concurrency, and memory management with iOS's Automatic Reference Counting.
Developing user interfaces with Auto Layout that take advantage of the extra screen space on the iPhone 5.
Creating and using unit tests to ensure your app continues to work as intended even as the codebase evolves.
Working through Apple's App Store processes, including preparing apps for submission, avoiding rejections, and understanding crash reports from end users.
Whether you're a first-time iOS developer, or you're looking to get up to speed with all the changes to Apple's tools and frameworks, iOS SDK Development is the solid grounding you need to master this popular platform.
Available for e-readers in epub, mobi, and PDF formats direct from the publisher and in paperback from fine bookstores worldwide.
Book Information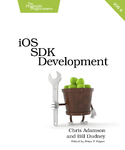 iOS SDK Development
ISBN: 9781934356944, 296 pages, $35.00US, $37.00CA, 7.5×9.
Pragmatic Bookshelf Titles are distributed to bookstores internationally by O'Reilly Media.
Additional Resources
Sample chapters, table of contents, and more information is available on the book's home page.
About Pragmatic Bookshelf
The Pragmatic Bookshelf features books written by developers for developers. The titles continue the well-known Pragmatic Programmer style, and continue to garner awards and rave reviews. As development gets more and more difficult, the Pragmatic Programmers will be there with more titles and products to help programmers stay on top of their game.
Contacts
Press and Editorial Queries Only:
Contact Andy Hunt or Dave Thomas
Pragmatic Bookshelf
800-699-7764 (+1 919-847-3884)
pragprog@praprog.com
<<
Mac Kung Fu, 2nd Edition
|
The ThoughtWorks Anthology, Volume 2: More Essays on Software Technology and Innovation
>>