iPad Programming: A Quick-Start Guide for iPhone Developers
10/4/2010
Want to write a killer app? Start with a killer device: the iPad. It's in a class by itself, and it opens up a whole new world of possibilities: the iPad has changed the rules about personal computing. Now it's also changing the way you think about developing great user software.
Discover what the iPad really is, what the iPad is capable of, and how you can take advantage of it with iPad Programming: A Quick-Start Guide for iPhone Developers (Pragmatic Bookshelf, $34.95).
This quick-start guide will have you writing iPad apps right away, using a combination of the familiar iPhone APIs along with the new APIs and additional templates designed specifically for creating iPad applications.
You'll learn all about Split Views, how to use Gestures, custom keyboards and of course, all about video. The iPad isn't just a bigger iPhone/iPod Touch, it's a unique device with it's own way of doing things and its own unique features. We'll show you how to take advantage of those features. But more importantly, we don't just teach you to write apps that run on an iPad, we teach you to create a new breed of application that will delight iPad users.
The rules have changed, and you need to know how to make the most of this groundbreaking device. Start with iPad Programming: : A Quick-Start Guide for iPhone Developers today, and join the exciting, exploding new world of iPad application development.
What People Are Saying
"Quite a bargain, given the smart and concise way the authors demonstrate iPad-specific features." —Mike Riley, Dr. Dobb's Journal Review
"iPad Programming is a great resource for iPhone developers to immerse themselves in the new world of iPad development." —Raven Zachary, Founder of iPhoneDevCamp and iPadDevCamp
"A must-read for software developers planning to create new iPad apps or look ing forward to porting existing iPhone apps into this new device." —Adrian Kosmaczewski, Director, akosma software
"iPad Programming includes some incredible gems and details that you won't find elsewhere." —Joseph Heck, Founder Seattle Xcoders SIG
Book Information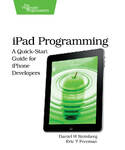 iPad Programming
A Quick-Start Guide for iPhone Developers
ISBN: 9781934356579, 248 pages, $34.95US, $43.95CA, 7.5×9.
Pragmatic Bookshelf Titles are distributed to bookstores internationally by O'Reilly Media.
Additional Resources
Sample chapters, table of contents, and more information is available on the book's home page.
About Pragmatic Bookshelf
The Pragmatic Bookshelf features books written by professional developers for professional developers. The titles continue the well-known Pragmatic Programmer style, and continue to garner awards and rave reviews. As development gets more and more difficult, the Pragmatic Programmers will be there with more titles and products to help programmers stay on top of their game.
Contacts
Press and Editorial Queries Only:
Contact Andy Hunt or Dave Thomas
Pragmatic Bookshelf
800-699-7764 (+1 919-847-3884)
pragprog@praprog.com
<<
Seven Languages in Seven Weeks
|
The Agile Samurai: How Agile Masters Deliver Great Software
>>