iPhone SDK Development (3.0+)
10/9/2009
Developers don't get excited about much these days. The latest point-release of their favorite language or library just isn't that exciting. But every so often, something comes along that changes the game—and gets everyone excited.
Apple's iPhone and App Store has changed the game, and created today's most remarkable mobile communications platform. Now you can jump into iPhone application development, the Pragmatic way, with iPhone SDK Development (Pragmatic Bookshelf, $38.95).
Packed with useful examples, this book will give you both the big-picture concepts and the everyday "gotcha" details that developers need to make the most of the beauty and power of the iPhone OS platform.
Authors Bill Dudney and Chris Adamson will take you through the XCode IDE, and show you how to build your app and deploy it onto your own device for testing. You'll learn how to develop your user interface using Interface Builder, and master the iPhone's unique user interface components, including tables, tab bars, navigation bars, and the multi-touch interface.
Connect your iPhone to the outside world with networking and to other phones with Bonjour and Game Kit, and explore Core Data and first-class support for images, animation, audio, and video. You'll see how to make use of the iPhone's unique mobile APIs, like geolocation, Map Kit, the compass, and the motion-sensing accelerometer.
With more than 50 sample programs (updated for iPhone SDK 3.0), explorations of the big picture, and an eye to the little details that you'll need, iPhone SDK Development goes beyond basic developer docs to help you succeed on today's most important mobile platform.
Book Information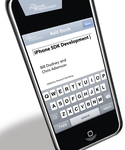 iPhone SDK Development
ISBN: 9781934356258, 576 pages, $38.95US, $48.95CA, 7.5×9.
Pragmatic Bookshelf Titles are distributed to bookstores internationally by O'Reilly Media.
Additional Resources
Sample chapters, table of contents, and more information is available on the book's home page.
About Pragmatic Bookshelf
The Pragmatic Bookshelf features books written by developers for developers. The titles continue the well-known Pragmatic Programmer style, and continue to garner awards and rave reviews. As development gets more and more difficult, the Pragmatic Programmers will be there with more titles and products to help programmers stay on top of their game.
Contacts
Press and Editorial Queries Only:
Contact Andy Hunt or Dave Thomas
Pragmatic Bookshelf
800-699-7764 (+1 919-847-3884)
pragprog@praprog.com
<<
Core Data: Apple's

API

for Persisting Data on Mac

OS X
|
Agile Coaching
>>