For Immediate Release: January 7, 2013
Squeeze every drop of juice from Mac OS X with over 400 quick and easy tips, tricks, hints and hacks in Mac Kung Fu: Second Edition: Over 400 Tips, Tricks, Hints, and Hacks for Apple OS X (Pragmatic Bookshelf, $39.00 paperback). Exploit secret settings and hidden apps, push built-in tools to the limit, radically personalize your Mac experience, and make "it just works" even better.
In addition to core OS X technologies, this significantly revised and expanded update to the best-selling first edition dissects new OS X Mountain Lion tools such as iCloud, Notifications, Reminders, and Calendar.
"You're sure to find something clever, amusing, and (best of all) useful by browsing its 400-odd pages of high-caffeine OS X utility content."
—Erica Sadun, TUAW Bookshelf Review
Mac Kung Fu: Second Edition will blow your mind with secret hacks never before made public and little-known tricks that will change the way you work forever. From big tasks through everyday jobs, this book will improve your productivity and refine your workflow. You'll customize and manage the OS X interface, boost the power of built-in apps, efficiently handle the filesystem, implement important security tricks, and much more.
Working with files in iCloud? We have tips to help. Managing program windows on your desktop? Hacks will make life easier. Creating reminders or notes? Use our tricks to make the process more productive. Emailing, tweeting, browsing, printing, word processing, testing and exploiting hardware, working with photos, movies, and documents… There's no area Mac Kung Fu: Second Edition doesn't touch upon, making it a unique and utterly necessary addition for any Mac lover's bookshelf.
Each tip is deliberately short and readable, often detailing things even Mac Geniuses don't know, and you can dip in and out whenever you want. Most tips take less than a minute to complete, yet the results last for a lifetime of better computing.
Available for e-readers in epub, mobi, and PDF formats direct from the publisher and in paperback from fine bookstores worldwide.
What Readers are Saying
"...a plethora of excellent Mac advice. It is accessible to new users, and even experienced Mac enthusiasts will find ways to make their lives simpler and more efficient."
—Loren Sands-Ramshaw
"Keir Thomas has compiled one of the most useful and interesting assembly of Mac tips and tricks available today. Packed with how-to insights and easy-to-follow steps, Mac Kung Fu, Second Edition is a knowledgeable guide to have by your side every step of the way."
—Mike Riley, Dr. Dobb's Journal
Book Information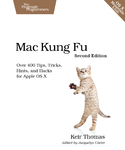 Mac Kung Fu (2nd edition)
Over 400 Tips, Tricks, Hints, and Hacks for Apple OS X
ISBN: 9781937785079, 424 pages, $39.00US, $41.00CA, 7.5×9.
Pragmatic Bookshelf Titles are distributed to bookstores internationally by O'Reilly Media.
Additional Resources
Sample chapters, table of contents, and more information is available on the book's home page.
About Pragmatic Bookshelf
The Pragmatic Bookshelf features books written by developers for developers. The titles continue the well-known Pragmatic Programmer style, and continue to garner awards and rave reviews. As development gets more and more difficult, the Pragmatic Programmers will be there with more titles and products to help programmers stay on top of their game.
Contacts
Press and Editorial Queries Only:
Contact Andy Hunt or Dave Thomas
Pragmatic Bookshelf
800-699-7764 (+1 919-847-3884)
pragprog@praprog.com
<<
The Definitive

ANTLR 4

Reference
|
iOS

SDK

Development
>>