6/27/2008
Raleigh/Dallas.
Imagine a true thin-client web application environment, with no browser incompatibilities, no plugins, and an interface that's closer to a desktop app. You can have it all, today. The last couple of years have seen big changes in server-side web programming. Now it's the client's turn; Dojo is the toolkit to make it happen and Mastering Dojo shows you how.
Mastering Dojo walks you through the whole range of modern web programming problems, from bringing simple web pages to life with widgets and animation, to designing and building an enterprise-class, single-page Rich Internet Application (RIA).
With commentary and contribution by Dojo's own Alex Russell, Mastering Dojo takes you beyond reference books and shows you the why behind Dojo.
Alex says, "The art of building really responsive JavaScript driven UI's is about making good tradeoffs, and this book really helps you understand what Dojo provides you with in ways that let you trade things off for the benefit of the user experience."
Dojo is a set of client-side JavaScript tools that help you build better web applications. Dojo blurs the line between local, native applications and browser-based applications; the browser becomes the user interface platform. "Modern" browsers provide an incomplete, inconvenient, and incompatible programming environment, but Dojo eliminates these problems. While there are many JavaScript libraries available, most focus on just one thing (for example, effects libraries, perceived JavaScript omissions, or HTML widgets). Dojo addresses all of these functional areas—and many others—extensively.
In Mastering Dojo, you'll get the whole story, from basic usage to advanced idioms. Mastering Dojo starts out with a fast moving tutorial that will give you techniques that you can start using right away. You'll learn all about Dojo Core—the foundation on which all things Dojo stand. See how you can modularize your project for development and automatically package your release for optimal download performance. You'll love using Dojo's HTML user interface control widget system, Dijit. See how to use over 40 widgets, including the rich yet easy-to-use tree and grid controls.
Finally, you'll get an in-depth look at how to design and build a single-page, rich Internet Application (RIA).
Don't just know Dojo: master it.
Book Information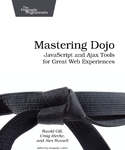 Mastering Dojo
JavaScript and Ajax Tools for Great Web Experiences
ISBN: 9781934356111, 568 pages, $38.95US, $38.95CA, 7.5×9.
Pragmatic Bookshelf Titles are distributed to bookstores internationally by O'Reilly Media.
Additional Resources
Sample chapters, table of contents, and more information is available on the book's home page.
About Pragmatic Bookshelf
The Pragmatic Bookshelf features books written by professional developers for professional developers. The titles continue the well-known Pragmatic Programmer style, and continue to garner awards and rave reviews. As development gets more and more difficult, the Pragmatic Programmers will be there with more titles and products to help programmers stay on top of their game.
Contacts
Press and Editorial Queries Only:
Contact Andy Hunt or Dave Thomas
Pragmatic Bookshelf
800-699-7764 (+1 919-847-3884)
pragprog@praprog.com
<<
Scripted

GUI

Testing with Ruby
|
Deploying Rails Applications
>>