Release It! Design and Deploy Production-Ready Software
3/30/2007
If you're a programmer, there's nothing worse then getting that call at 3AM. Your application crashed suddenly. Maybe it was a victim of its own popularity. Or maybe it was a botnet attack. A reboot doesn't fix it, so now it's up to you.
Whether it's in Java, .NET, or Ruby on Rails, getting your application ready to ship is only half the battle. Did you design your system to survive a sudden rush of visitors from Digg or Slashdot? Or an influx of real world customers from 100 different countries? Are you ready for a world filled with flakey networks, tangled databases, and impatient users?
If you're a developer and don't want to be on call for the rest of your life, this book will help.
In Release It! Design and Deploy Production-Ready Software (Pragmatic Bookshelf, US$34.95, 0-9787392-1-3), Michael T. Nygard shows you how to design and architect your application for the harsh realities it will face. You'll learn how to design your application for maximum uptime, performance, and return on investment.
Mike explains that many problems with systems today start with the design:
"It's disconnected from the real world. It's the same as cars designed solely in the cool comfort of the lab—they look great in models and CAD systems, but don't work well in the real world. You want a car designed by somebody who knows that oil changes are always 3,000 miles late; that the tires must work just as well on the last sixteenth of an inch of tread as on the first; and that you will certainly, at some point, stomp on the brakes while you're holding an Egg McMuffin in one hand and a cell phone in the other."
With a combination of case studies and practical advice, Patterns to follow and Anti-Patterns to avoid, Release It! will help you manage the pitfalls that cost companies huge amounts of time and money each year.
Reviewer Praise
Agile development emphasizes delivering production-ready code every iteration. This book finally lays out exactly what this really means for critical systems today. You have a winner here.
Tom Poppendieck, Poppendieck, LLC
It's brilliant. Absolutely awesome. This book would've saved [Really Big Company] hundreds of thousands, if not millions, of dollars in a recent release.
Jared Richardson, Agile Artisans, Inc.
Book Information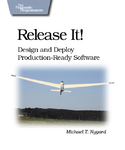 Release It!
Design and Deploy Production-Ready Software
ISBN: 9780978739218, 326 pages, $34.95US, $45.95CA, 7.5×9.
Pragmatic Bookshelf Titles are distributed to bookstores internationally by O'Reilly Media.
Additional Resources
Sample chapters, table of contents, and more information is available on the book's home page.
About Pragmatic Bookshelf
The Pragmatic Bookshelf features books written by developers for developers. The titles continue the well-known Pragmatic Programmer style, and continue to garner awards and rave reviews. As development gets more and more difficult, the Pragmatic Programmers will be there with more titles and products to help programmers stay on top of their game.
Contacts
Press and Editorial Queries Only:
Contact Andy Hunt or Dave Thomas
Pragmatic Bookshelf
800-699-7764 (+1 919-847-3884)
pragprog@praprog.com
<<
The Definitive

ANTLR

Reference: Building Domain-Specific Languages
|
TextMate: Power Editing for the Mac
>>