Outsource It! A No-Holds-Barred Look at the Good, the Bad, and the Ugly of Offshoring Tech Projects
For Immediate Release: January 10, 2013
If you need to expand your business but not your budget, if your group has an intense but short-term project, if you don't have the skill set to get a job done-it's time to think about outsourcing. Starting from the first step (should you outsource part of your tech work?) to the last (how can you protect your intellectual property?), you'll learn everything about setting up projects overseas in Outsource It! A No-Holds-Barred Look at the Good, the Bad, and the Ugly of Offshoring Tech Projects (Pragmatic Bookshelf $35.00).
Offshore outsourcing can reduce operating expenses, decrease time to market, and provide access to a flexible workforce or hard-to-find skills. To get the most from your outsourced project, you need to know how outsourcing works—what it can do, what it can't do, and what you can expect from it. You'll discover:
A pragmatic, step-by-step guide for setting up and running outsourcing engagements
Proven techniques that will maximize your return on investment and minimize risks
Handy checklists and easy-to-use tools for every step of the outsourcing life cycle
Common offshore outsourcing traps—and tips on how to avoid them
Outsource It! tells you how to estimate your potential savings, how to figure out what, how, and where to go—and how to find that vendor magic. You'll learn how to use metrics, reduce turnover, and perform technical due diligence. And you'll never miss a beat, because the checklists will keep you and your project on track.
Outsource It! is written by a seasoned technology professional with more than 20 years of experience working all sides of outsourcing. Nick's book takes the lessons he learned the hard way and turns them into an easy-to-read, practical guide for technology professionals.
Available for e-readers in epub, mobi, and PDF formats direct from the publisher and in paperback from fine bookstores worldwide.
What Readers are Saying
I manage several highly distributed development teams, including teams in Russia. Outsource It! is a very pragmatic, easy-to-read "how to" reference, which has practical recommendations for addressing the most common decisions and challenges with outsourced projects. In particular, I liked Nick's observations about cultural differences between popular outsourcing destinations, as it matched my personal experience, and I could clearly relate to many situations described in this book.
—Kirill Abgarian, Program Manager, R&D, Quest Software
The quintessential guide to modern outsourcing, this gem of a book, laced with real-world examples, will appeal to both experts and newbies alike. A must-read for anyone venturing into this territory.
—Manoj Andhappilly, Director of Engineering, Motif Investing, Inc.
Book Information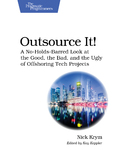 Outsource It!
A No-Holds-Barred Look at the Good, the Bad, and the Ugly of Offshoring Tech Projects
ISBN: 9781937785055, 264 pages, $35.00US, $37.00CA, 7.5×9.
Pragmatic Bookshelf Titles are distributed to bookstores internationally by O'Reilly Media.
Additional Resources
Sample chapters, table of contents, and more information is available on the book's home page.
About Pragmatic Bookshelf
The Pragmatic Bookshelf features books written by developers for developers. The titles continue the well-known Pragmatic Programmer style, and continue to garner awards and rave reviews. As development gets more and more difficult, the Pragmatic Programmers will be there with more titles and products to help programmers stay on top of their game.
Contacts
Press and Editorial Queries Only:
Contact Andy Hunt or Dave Thomas
Pragmatic Bookshelf
800-699-7764 (+1 919-847-3884)
pragprog@praprog.com
<<
Cucumber Recipes: Automate Anything with

BDD

Tools and Techniques
|
Core Data: Data Storage and Management for iOS,

OS X

, and iCloud, 2nd Ed
>>