05/25/2009
In Practical Programming: An Introduction to Computer Science Using Python (Pragmatic Bookshelf, $32.95) the team of Jennifer Campbell, Paul Gries, Jason Montojo, and Greg Wilson present a new approach to basic computer science, using Python.
Welcome to computer science in the 21st century. Did you ever wonder how computers represent DNA? How they can download a web page containing population data and analyze it to spot trends? Or how they can change the colors in a color photograph? If so, this book is for you. By the time you're done, you'll know how to do all of that and a lot more. And Python makes it easy and fun.
Computers are used in every part of science from ecology to particle physics. This introduction to computer science continually reinforces those ties by using real-world science problems as examples. Anyone who has taken a high school science class will be able to follow along as the book introduces the basics of programming, then goes on to show readers how to work with databases, download data from the web automatically, build graphical interfaces, and most importantly, how to think like a professional programmer.
Topics covered include:
Basic elements of programming from arithmetic to loops and if statements.
Using functions and modules to organize programs.
Using lists, sets, and dictionaries to organize data.
Designing algorithms systematically.
Debugging things when they go wrong.
Creating and querying databases.
Building graphical interfaces to make programs easier to use.
Object-oriented programming and programming patterns.
Book Information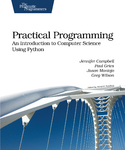 Practical Programming
An Introduction to Computer Science Using Python
ISBN: 9781934356272, 346 pages, $32.95US, $32.95CA, 7.5×9.
Pragmatic Bookshelf Titles are distributed to bookstores internationally by O'Reilly Media.
Additional Resources
Sample chapters, table of contents, and more information is available on the book's home page.
About Pragmatic Bookshelf
The Pragmatic Bookshelf features books written by developers for developers. The titles continue the well-known Pragmatic Programmer style, and continue to garner awards and rave reviews. As development gets more and more difficult, the Pragmatic Programmers will be there with more titles and products to help programmers stay on top of their game.
Contacts
Press and Editorial Queries Only:
Contact Andy Hunt or Dave Thomas
Pragmatic Bookshelf
800-699-7764 (+1 919-847-3884)
pragprog@praprog.com
<<
Programming Clojure
|
The Passionate Programmer
>>