For Immediate Release: December 17, 2013
Google Glass is the next big thing in portable technology—a wearable computer with an optical head-mounted display. Programming Google Glass (Pragmatic Bookshelf, $17 paper, $11 ebook) is your all-inclusive guidebook for crafting your own Glassware using the Mirror API.
You'll start by setting up a production-ready service using Google App Engine, then provide Glass users an authorization to your Glassware. You'll learn how to handle the provided credentials, and from there you'll dive into the parts that make up the Glass interface, managing the timeline and creating cards and menu items. Next you'll create services where the user can interact with your server, such as geolocation tracking, change notifications, and custom menu options. You'll use this information to create a sophisticated application that suggests local restaurants. You'll see how to attach or detach assets, images, and video, and learn the basics of the emerging field of optical-display design. You'll see how to properly design new Glassware and update existing applications to become Glassware.
Now is the best time to be an early adopter of a technology that will only become more advanced, nuanced, and ubiquitous.
Available for e-readers in epub, mobi, and PDF formats direct from the publisher and in paperback from fine bookstores worldwide.
Book Information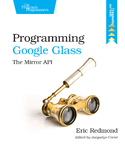 Programming Google Glass
ISBN: 9781937785796, 136 pages, $17.00US, $17.00CA, .
Pragmatic Bookshelf Titles are distributed to bookstores internationally by O'Reilly Media.
Additional Resources
Sample chapters, table of contents, and more information is available on the book's home page.
About Pragmatic Bookshelf
The Pragmatic Bookshelf features books written by developers for developers. The titles continue the well-known Pragmatic Programmer style, and continue to garner awards and rave reviews. As development gets more and more difficult, the Pragmatic Programmers will be there with more titles and products to help programmers stay on top of their game.
Contacts
Press and Editorial Queries Only:
Contact Andy Hunt or Dave Thomas
Pragmatic Bookshelf
800-699-7764 (+1 919-847-3884)
pragprog@praprog.com
<<
Programming Sound with Pure Data: Make Your Apps Come Alive with Dynamic Audio
|
Remote Pairing: Collaborative Tools for Distributed Development
>>