Programming Your Home: Automate with Arduino, Android, and Your Computer
For Immediate Release: March 5, 2012
Take control of your home! In Programming Your Home (Pragmatic Bookshelf, $33.00), technology enthusiast Mike Riley walks you through a variety of custom home automation projects, ranging from a phone application that alerts you to package deliveries at your front door to an electronic guard dog that will prevent unwanted visitors.
Programmatically interact with indoor and outdoor lighting, remotely monitor and take charge of your home's security, react to changes in room lighting and temperature by autonomously opening and closing curtains, and much more. Learn how to program Android smartphones and Arduino microcontrollers to remotely manage your home's environment. Step-by-step instructions tell you all you need to know about how to obtain, build, program, use, and extend these innovative services.
Open locked doors using your smartphone. Assemble a bird feeder that posts Twitter tweets to tell you when the birds are feeding or when bird seed runs low. Have your home speak to you when you receive email, notify you when visitors arrive, and more.
Programming Your Home is written for smartphone programmers, web developers, technology tinkerers, and anyone who enjoys building cutting-edge, do-it-yourself electronic projects. This book will give you the inspiration and understanding to construct amazing automation capabilities that will transform your residence into the smartest home in your neighborhood!
Available in epub, mobi, and PDF direct from the publisher and in paperback from fine bookstores worldwide.
What You Need:
To get the most out of Programming Your Home, you should have some familiarity with the Arduino hardware platform along with a passion for tinkering. You should enjoy innovative thinking and learning exercises as well as have some practical application development experience. The projects use a variety of hardware components including sensors and actuators, mobile devices, and wireless radios, and we'll even tell you where you can get them.
Q&A with author Mike Riley
Q: Why did you write Programming Your Home?
A: I wanted to show people with little or no experience with programming micro controllers how to empower themselves with the ability to automate their own homes. Seeing the completed, working project brings a wonderful sense of accomplishment.
Q: How many home automation projects are featured in the book?
A: Programming Your Home features 8 unique projects, ranging from a water level alerting system to a voice synthesized interactive application to control and report on the variety of projects constructed throughout the book.
Q: Which is your favorite project from the book?
A: The Android Door Lock is a my personal favorite, but it's also one of the most complex in the book. I also enjoyed building and using the Tweeting Bird Feeder. It's a thrill to watch tweets appear in a Twitter feed when birds are perching on the feeder, or when the feeder bird seed needs to be refilled.
Q: Do the projects cost a lot of money to build?
A: Not at all. That's a big reason why home automation is so compelling today. Most of the projects cost less than sixty dollars to assemble, and much of the hardware is reusable in other projects, driving the material costs down even further.
Q: How long does it take to build a typical project from the book?
A: Most of the projects can be assembled and operational within an hour or two.
Q: What can I do with the projects after I finish building them?
A: Each chapter has a 'Next Steps' section that encourages you to extend each project in novel and highly customized ways. After reading the book, you will have the knowledge and experience necessary to build upon the projects or create your own that automate aspects of your home in your own unique way.
What People are Saying
I've had more fun learning new languages, systems, and gadgets with this book than any other book I've read! —James Schultz, Software Developer
This is an outstanding reference that should be on the desk of every DIYer. —Jon Kurz, President, Dycet, LLC
Mike has a broad technology experience base that puts all the pieces of some remarkable projects together. It's amazing that he makes it all so easy and affordable. Don't miss all that can be learned from this gem. —Michael Bengtson, Consultant
Book Information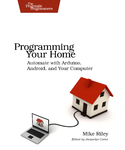 Programming Your Home
Automate with Arduino, Android, and Your Computer
ISBN: 9781934356906, 242 pages, $33.00US, $35.00CA, 7.5×9.
Pragmatic Bookshelf Titles are distributed to bookstores internationally by O'Reilly Media.
Additional Resources
Sample chapters, table of contents, and more information is available on the book's home page.
About Pragmatic Bookshelf
The Pragmatic Bookshelf features books written by developers for developers. The titles continue the well-known Pragmatic Programmer style, and continue to garner awards and rave reviews. As development gets more and more difficult, the Pragmatic Programmers will be there with more titles and products to help programmers stay on top of their game.
Contacts
Press and Editorial Queries Only:
Contact Andy Hunt or Dave Thomas
Pragmatic Bookshelf
800-699-7764 (+1 919-847-3884)
pragprog@praprog.com
<<
Technical Blogging: Turn Your Expertise into a Remarkable Online Presence
|
The Developer's Code: What Real Programmers Do
>>