Prototype and script.aculo.us: You never knew JavaScript could do this!
12/19/2007
Raleigh/Dallas.
Tired of getting swamped in the nitty-gritty of cross-browser, Web 2.0-grade JavaScript? Get back in the game with Prototype and script.aculo.us, two extremely popular JavaScript libraries, that make it a walk in the park. Be it AJAX, drag and drop, auto-completion, advanced visual effects, or many other great features, all you need is write one or two lines of script that look so good they could almost pass for Ruby code!
In Prototype and script.aculo.us: You never knew JavaScript could do this! (Pragmatic Bookshelf, $34.95), author Christophe Porteneuve opens up these veritable treasure troves, showing you how they smooth over all the usual nitty-gritty differences between browsers, and make most common features a breeze to implement. With this book, you can quickly wield the whole power of these extraordinary libraries.
Christophe tells us, "Web applications are getting richer and richer, with more interaction baked in every day. But JavaScript, DOM, CSS and a full host of other Web standards are quite complex, and the result isn't always browser compliant." But now you can easily tame all that complexity.
Dive into Prototype, the library that makes JavaScript so much more powerful, and it looks a lot like Ruby code. Exploring the DOM, handling events, taming AJAX, and radically simplifying most of your scripting code: it all becomes easy—and very portable—with Prototype.
When it comes to advanced UI features, script.aculo.us is every web developer's dream come true: whether you need to create auto-completed text inputs, implement in-place editors, provide customized drag-and-drop behaviors, capture your users' attention with visual effects or simply build DOM fragments more efficiently, it's all there, and lightweight, too.
This book guides you through all the details of these features, letting you use many technologies on the server side, such as PHP, vanilla Ruby, and Ruby On Rails, in countless examples illustrating every aspect. Power users will also learn the design philosophies of the libraries, and how to contribute to them and augment them for their own needs.
Book Information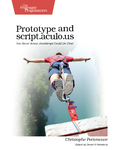 Prototype and script.aculo.us
You Never Knew JavaScript Could Do This!
ISBN: 9781934356012, 448 pages, $34.95US, $34.95CA, 7.5×9.
Pragmatic Bookshelf Titles are distributed to bookstores internationally by O'Reilly Media.
Additional Resources
Sample chapters, table of contents, and more information is available on the book's home page.
About Pragmatic Bookshelf
The Pragmatic Bookshelf features books written by developers for developers. The titles continue the well-known Pragmatic Programmer style, and continue to garner awards and rave reviews. As development gets more and more difficult, the Pragmatic Programmers will be there with more titles and products to help programmers stay on top of their game.
Contacts
Press and Editorial Queries Only:
Contact Andy Hunt or Dave Thomas
Pragmatic Bookshelf
800-699-7764 (+1 919-847-3884)
pragprog@praprog.com
<<
Augmented Reality: A Practical Guide
|
Design Accessible Web Sites: 36 Keys to Creating Content for All Audiences and Platforms
>>