Rails Test Prescriptions: Keeping Your Application Healthy
2/23/2011
Rails Test Prescriptions (Pragmatic Bookshelf, $34.95) is a comprehensive guide to testing Rails applications, covering the core Rails testing tools and procedures for Rails 2 and Rails 3, and introduces popular add-ons, including RSpec, Shoulda, Cucumber, Factory Girl, and Rcov.
Why would you need this book? Author Noel Rappin explains an all-too-common scenario: "Your Ruby on Rails application is sick. It's got bugs. Nobody remembers what that tricky piece of code was supposed to do, and nobody can tell what it actually does. Deadlines are looming, but every time you make the slightest change to the code, something else breaks."
You need Test-Driven Development (TDD), a proven process for improving the design, maintainability, and long-term viability of software. In TDD, the tests come first, and then code is written to match the expectation of the test. Using TDD means writing better code faster.
Noel continues, "Ruby on Rails has unparalleled support for TDD. In addition to the tools that Rails has built-in, a large and thriving testing community adds new tools at an accelerating rate. Rails Test Prescriptions is your guide to the entire Rails testing ecosystem."
Containing both practical code examples and discussion of why testing works, this book starts with the most basic features delivered as part of core Ruby on Rails. Once you've integrated those features into your coding practice, you'll want to use popular third-party testing tools such as RSpec, Shoulda, Cucumber, Factory Girl, and Rcov. Rails Test Prescriptions will show you how to use these tools and when they are appropriate.
If you are a Rails programmer who tests code, this book is an invaluable guide to the latest in available testing tools. If you are a Rails programmer who doesn't test code, then start testing immediately: this book can help.
Available in epub, mobi, and PDF direct from the publisher and in paperback from fine bookstores worldwide.
What People are Saying
"Rails Test Prescriptions presents a nuanced and unbiased overview of the tools and techniques professionals use to test their Rails apps every day. A must-read for any Rails developer, whether you've never written a single test or you've written thousands." —David Chelimsky, Senior Software Engineer, DRW Trading
"Rails Test Prescriptions is a great resource for anyone interested in getting better at testing Rails applications. New readers will find many helpful guides, and experienced readers will discover many lesser-known tips and tricks." —Nick Gauthier, Developer, SmartLogic Solutions
"Noel has dispensed a fantastic collection of prescriptions for all kind of testing maladies. Whether you are a budding intern, or a highly specialized surgeon, this book will provide you with the information you need to improve your testing health." —Christopher Redinger, Principal, Relevance, Inc.
Book Information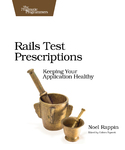 Rails Test Prescriptions
Keeping Your Application Healthy
ISBN: 9781934356647, 368 pages, $34.95US, $43.95CA, 7.5×9.
Pragmatic Bookshelf Titles are distributed to bookstores internationally by O'Reilly Media.
Additional Resources
Sample chapters, table of contents, and more information is available on the book's home page.
About Pragmatic Bookshelf
The Pragmatic Bookshelf features books written by developers for developers. The titles continue the well-known Pragmatic Programmer style, and continue to garner awards and rave reviews. As development gets more and more difficult, the Pragmatic Programmers will be there with more titles and products to help programmers stay on top of their game.
Contacts
Press and Editorial Queries Only:
Contact Andy Hunt or Dave Thomas
Pragmatic Bookshelf
800-699-7764 (+1 919-847-3884)
pragprog@praprog.com
<<
Agile Web Development with Rails 4th Edition
|
Using JRuby: Bringing Ruby to Java
>>