Rapid Android Development: Build Rich, Sensor-Based Applications with Processing
For Immediate Release: July, 2013
Now you can create mobile apps for Android phones and tablets faster and more easily than you ever imagined.
In Rapid Android Development (Pragmatic Bookshelf, $35), you'll learn how to use"Processing." It's a free, award-winning, graphics-savvy language and development environment that lets you work with the touchscreens, hardware sensors, cameras, network transceivers, and other devices and software in the latest Android phones and tablets.
Whether you're a student, teacher, hobbyist, or experienced developer, Rapid Android Development puts the fast-growing market for Android phone and tablet applications within your reach. Without needing to master the complexities of Java, Eclipse, or the Android SDK, you'll find yourself writing dazzling graphics displays and location-aware programs in no time.
With more than 40 ready-to-run demos, applications, and games, you'll find yourself diving deeper than you thought possible into the treasure trove of software and hardware packed into today's Android devices. You'll learn how to:
Access the Android touch screen, keyboard, and gestures to create eye-popping user experiences.
Tap into Android's on-board sensors for orientation, location, motion, geolocation, and more to build environment-aware applications.
Use Android's built-in networking devices to access the Internet, network with nearby Android devices, and interact with

NFC

-formatted

RFID

tags.
Create OpenGL accelerated 2D and 3D graphics.
Integrate camera images, video, and face-detection into your mobile apps.
Take selected apps cross-platform with new Processing support for

HTML 5

and JavaScript.
And once the prototyping is done, you can easily move your work to Eclipse for debugging and deployment.
Book Information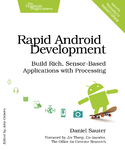 Rapid Android Development
Build Rich, Sensor-Based Applications with Processing
ISBN: 9781937785062, 384 pages, $35.00US, $37.00CA, 7.5×9.
Pragmatic Bookshelf Titles are distributed to bookstores internationally by O'Reilly Media.
Additional Resources
Sample chapters, table of contents, and more information is available on the book's home page.
About Pragmatic Bookshelf
The Pragmatic Bookshelf features books written by developers for developers. The titles continue the well-known Pragmatic Programmer style, and continue to garner awards and rave reviews. As development gets more and more difficult, the Pragmatic Programmers will be there with more titles and products to help programmers stay on top of their game.
Contacts
Press and Editorial Queries Only:
Contact Andy Hunt or Dave Thomas
Pragmatic Bookshelf
800-699-7764 (+1 919-847-3884)
pragprog@praprog.com
<<
iCloud for Developers: Automatically Sync Your iOS Data, Everywhere, All the Time
|
OpenGL

ES 2

for Android: A Quick-Start Guide
>>